NASCAR Challenger
Fox Sports reported the news that Dodge Challenger and Ford Mustang will possibly be entering the 2010 NASCAR Nationwide Series. This is to stir up interest in the series again to get the attendance back up. The interesting part of the news is a redesign of the NASCAR racecars.
Here's a quote:
The new cars are expected to be closer to stock than any vehicle that the sanctioning body has run in the top two series since the dreaded term "aero-matching" rolled off spin-doctor tongues in 2000.

And the sanctioning body is responding by offering an olive branch in the form of a sleeker, sexy race car to entice the fans back to the stands. A car that hopefully will revive the "Win on Sunday, buy on Monday" mentality of fans so automakers and sponsors can continue to enjoy a return on investment in the sport.

goto Fox Sports for the complete report
I'm not gonna pretend that I'm a fan of NASCAR series before but as a Challenger owner myself, this news got my attention and got me curios on how a challenger might look like as the Nationwide Series "Car of Tomorrow" race car.
Here's what I came up with. 2010 Dodge Challenger NASCAR racecar.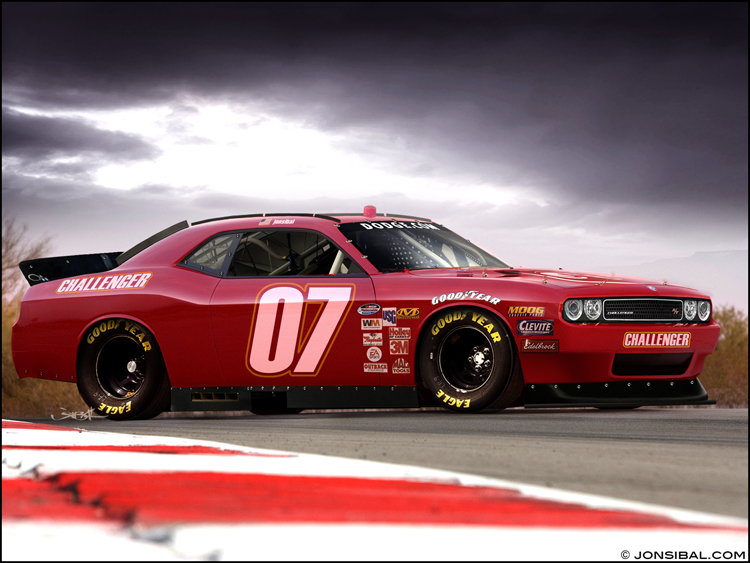 CLICK HERE FOR HI-RES
Design Process:
Starting with a stock Dodge Challenger, I lowered the car and replaced the wheels with the NASCAR style wheels. The interior have been stripped out and converted to race spec. I then used the duck-tail wing commonly found in the NS cars along with the rocker panel and front splitter modifications. Details like roof wind diffusers I thought was also appropriate. Typical in the series are the sponsor decals and that huge number applied in the door. I took out the side view mirrors and the door handles thinking that this body will be a one-piece clip anyway. The headlight area is also a decal since these race cars doesn't require a functioning unit. I kept it a single color so to make it look like a real concept nascar race car from Dodge.
Looking at the finished rendering, the car looks even more retro than ever before. And the body is not too far away from factory just as what was being mentioned in the report.
I'm curious to see the actual designs that are suppose to be submitted in 10 days for approval according to the NASCAR rule book. I might be completely way off but we'll just have to wait and see.