Ripped off again! UPDATE
28 April 2010
33 Comments
UPDATE: April 29, 2010

Eddie Alterman of Car&Driver Magazine and Mark Neeper have both expressed their sincere apologies. And apologies accepted. Thank you both for owning up to it. I'm glad to finally have this issue sorted out. Best Regards.

Big thanks to Damon of Autoblog and Ray of Jalopnik for running this story. As well as all the support from everyone.

As they say, "back to the drawing board".
Ah, man, it happened again. Parts from one of my speculative rendering have been ripped off yet again with a sole purpose of creating a rendering of the same model. I HATE THIS.
Remember that RMR/Hyundai drama? (LINK) I'm glad that was resolved.
Another time was when I did my rendering of the then NSX-replacement now known as the HSV-010 (LINK). I created that rendering for 0-60 Magazine and I caught it appearing in some Japanese magazine flipped horizontally but undeniably a direct copy of my work. The magazine denied and refuse to acknowledge the uncanny similarities of both renderings. Unbelievable.
This time, Car&Driver Magazine published an article on the "25 Cars Worth Waiting For". Great article from them as always featuring this speculative rendering of a blue 2011 BMW M5 illustrated by "Mark Neeper" as posted in the article.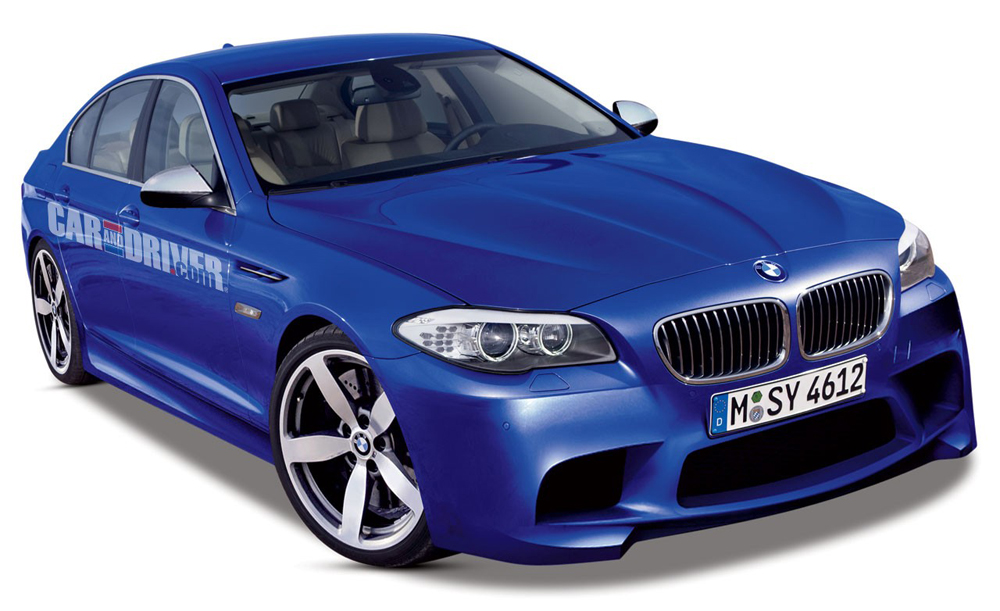 But wait, this F10 M5 rendering looks familiar. Let me post my original F10 M5 rendering to compare. Maybe it just looks similar but nothing else. Heck it's blue, facing the other way, different wheels on a white background so it must be an original rendering… right?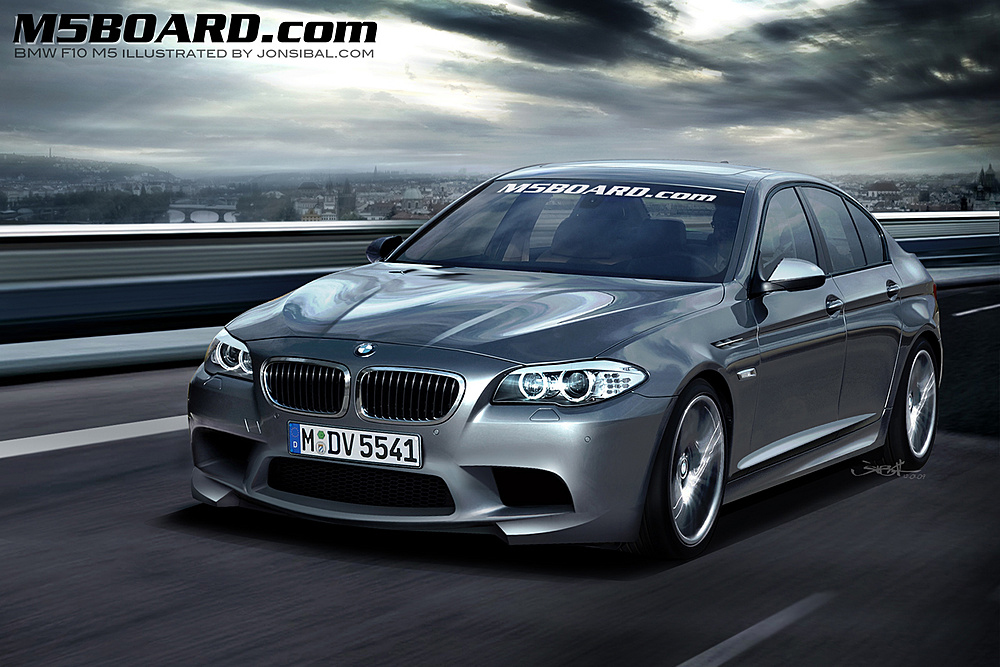 OK so after comparing it to my rendering I did back in Dec for M5Board.com, I can see that the base image of the 5er is different from what I used. BUT, the parts that I brushed, painted and designed to make a regular 5er look like an M5 (front bumper, Side vents/gills, side mirrors, and side skirt) were all copied and pasted onto the C&D M5 rendering.
But you might be thinking "OK so what's the big deal?! There are tons of Digital Artist out there that can design and create what you did, which can turn out looking or very similar to yours!"
I understand that there are plenty of other artist that create these speculative renderings and this is not my concern. What bothers me is the whole COPYING and PASTING parts from previous artwork which took C&D artist Mark Neeper only a few minutes vs days of airbrushing and painting I've spent to create my F10 M5 rendering.
For someone to "copy and paste" parts from my artwork unto theirs and claim it as theirs to be published in a reputable magazine and failing to credit me for the most important parts of his illustration is just wrong any way you look at it.
For example, check out these areas: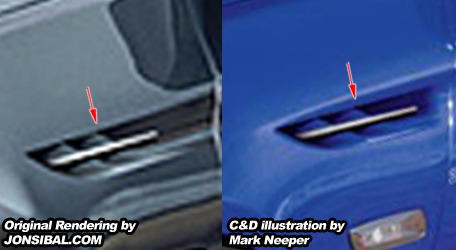 Side vents/gills- I remember vividly creating this from scratch so I know how the highlights and shadows go because I put them there. And look, just like the C&D rendering. Don;t you thin that if someone will create a rendering of the F10 M5 that they might come up with their own style of side gills? OK maybe this is just a coincidence… hmm.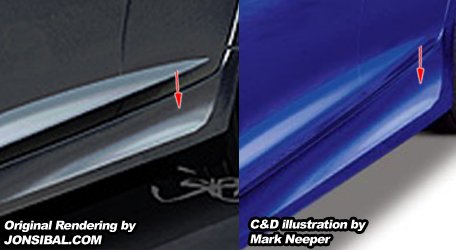 SideSkirt highlight reflection – again, I remember trying to decide whether to extend that highlight to span the full lenght of the rocker panel but decide to cut it shorter… and man… this very same sideskirt appeared on the C&D Rendering down to the small highlights.
Ok fine maybe those are just another coincidences right?
Ok how about the Side view mirror.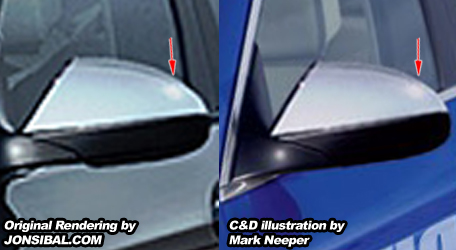 I remember when I did this where I combined the E92 M3 design with the F10 5 Series side view mirrors. I thought it was very unique which would made my rendering stand out as I was the first to do this on the F10 M5. But, yep looks identical to the C&D rendering again, down to the highlights in the top right corner!?
Still not convinced? OK how about this. Since this wasn't the first time my work or parts of my work have been ripped off, I thought to look for small details I left in my original work and if it shows up in the C&D rendering, then there should be no doubt that I was indeed ripped off again.
Check out the details of the front bumper: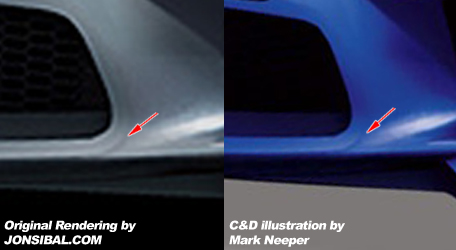 A faint line mark left from when I designed the front central intake of the bumper based on the spy pictures I've studied. Now this line showed up when I decided to reduce the size of the intake. But why is it also in the C&D rendering?!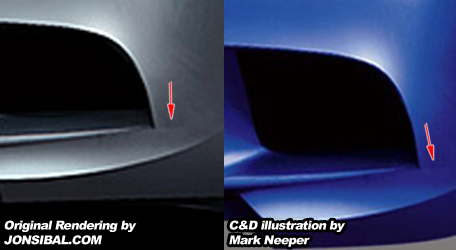 Another faint line from my own airbrushing and painting created by me not blending the side intake section with the lower lip part of the bumper.
These marks should be unique to my rendering only. The ONLY way for it to both appear, in the C&D rendering is from a COPY and PASTE job.
This mark is the biggest sign of all that this was a slimy "COPY and PASTE" job. See that conspicuous white line mark where the red arrow is pointing at? Well that was left in there purposely in my rendering, not because it shows a reflection from the background but a "watermark" of sort to help me track and identify the parts of the car I've painstakingly designed and created.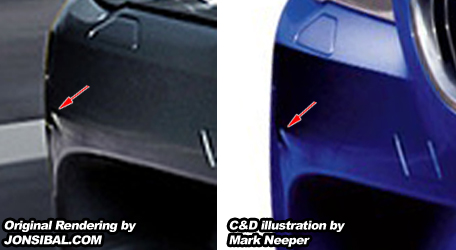 Again, that very line SHOULD NOT be in the C&D rendering, no reason for it. But only reason again for this to happen is through COPY and PASTE.
One last proof that the bumper I brushed and painted was cut out from my rendering and pasted, flipped horizontally and with a the "WARPED" tool in photoshop was tweaked to match the angle of the C&D M5 rendering.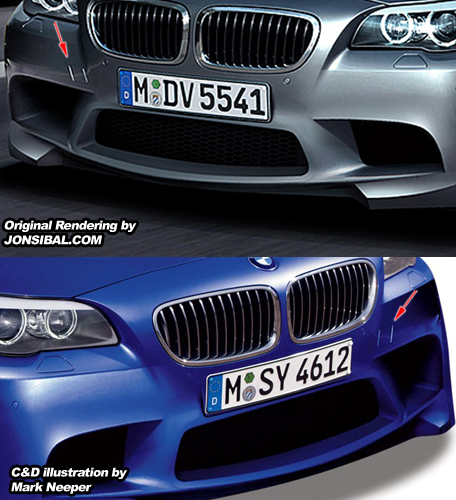 Check out the TOW HOOK Cover. The TOW HOOK Cover of the F10 5 series are all located in the Passenger Side of the front bumper. If the C&D Artist truthfully created this bumper on his own then the TOW HOOK cover should remain in the passenger side instead of it being on the driver side which was due from copying and pasting my artwork.
Again, our designs looking similar is not the issue here but it's the act of directly copying (cutting out pieces of my work) and pasting it unto theirs for the sole purpose of creating a rendering of the same model. It's simply disrespectful to the original artist. This COPY and PASTE process is a cheaters way of creating speculative rendering through existing speculative rendering. I would rather have the artist take time to brush, paint and design the bumper himself with it endiing up looking like mine rather than ripping off parts from my artwork for any reason.
I wrote an email to Car&Driver Magazine to inform them of this issue. And for Mark Neeper, from the previous work I've seen from you, you are no doubt a skilled automotive artist. But with all due respect, ripping off parts from an existing artwork to create a similar speculative rendering is downright wrong. You are an artist and I hope you can understand my frustration.
My hopes is that both C&D and Mark Neeper will acknowledge this so we can move on.
I'm waiting for C&D's reply and will update this post as soon as I hear back from them.
USEFUL LINKS:
LINK to the Car&Driver article
LINK to the Car&Driver M5 Illustration by Mark Neeper
LINK to my BMW F10 rendering blog post
LINK to my DeviantArt site featuring the BMW F10 rendering
LINK to M5Board who I created this rendering for