Big Willy center stage at SEMA
7 November 2010
4 Comments
It was a great honor to be part of SEMA this year. I dropped off the car at Meguiar's headquarter in Irvine last friday. Click Here to read more about it. I couldn't be at the show until Wednesday afternoon so grateful to RJ for taking care of Big Willy in the mean time.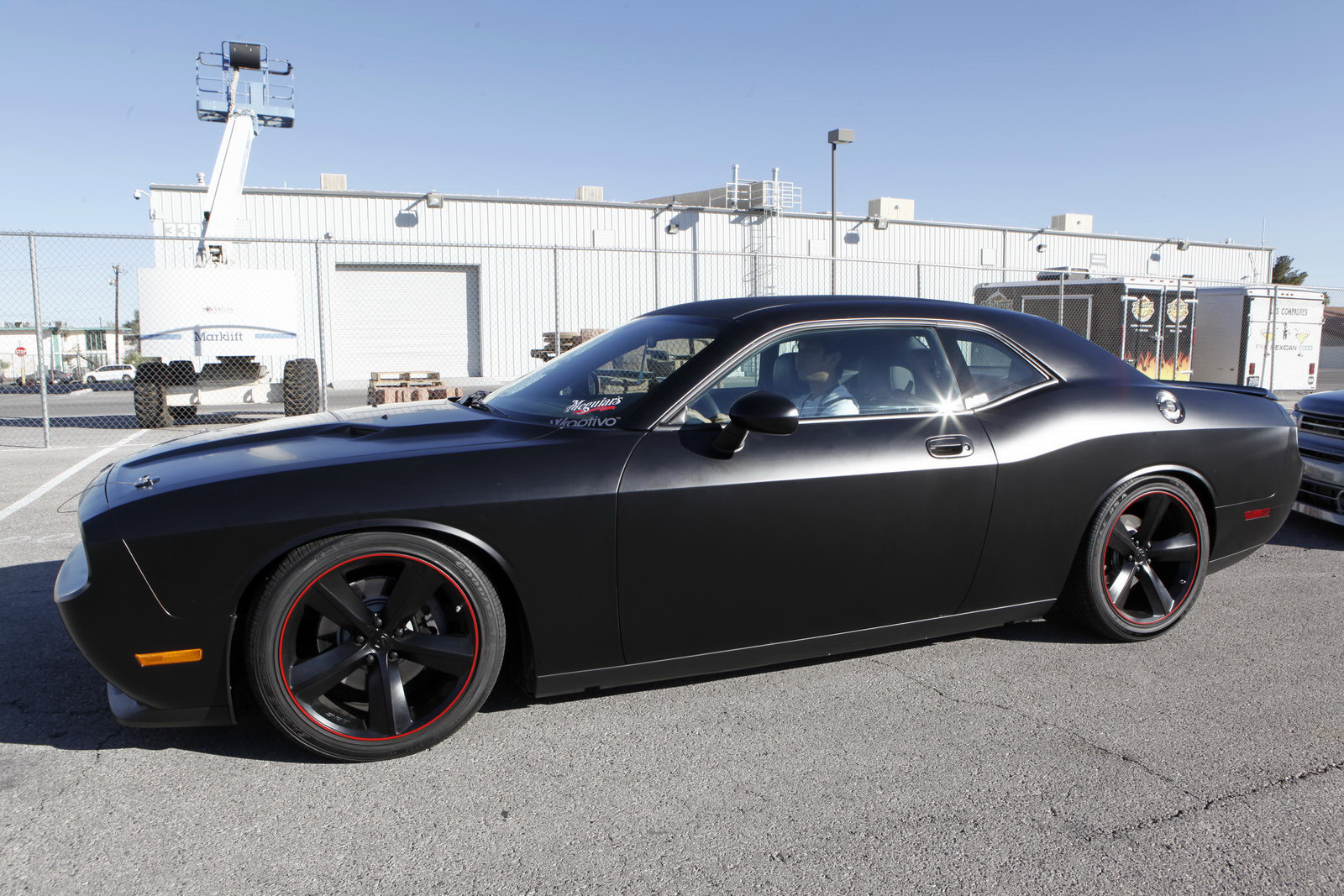 Here is RJ driving Big Willy captured by the photographer from Carscoop.
Wednesday around 1PM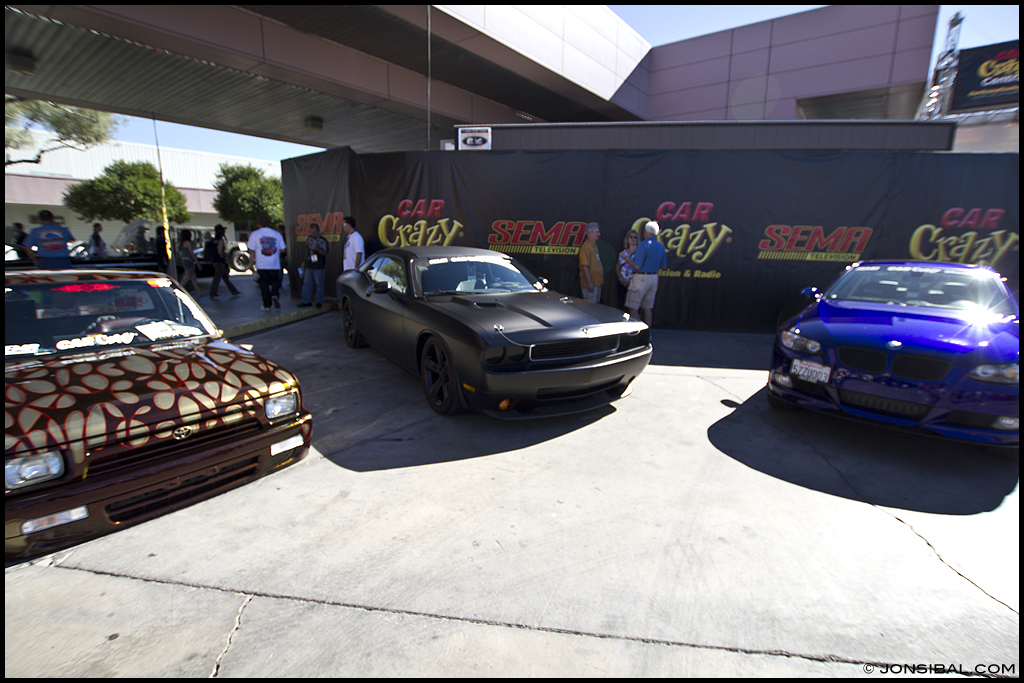 Upon getting there on Wed. afternoon on my way to pick up my badge in the South hall, I spotted Big Willy stationed at the CAR CRAZY CENTRAL corral with other CC featured cars.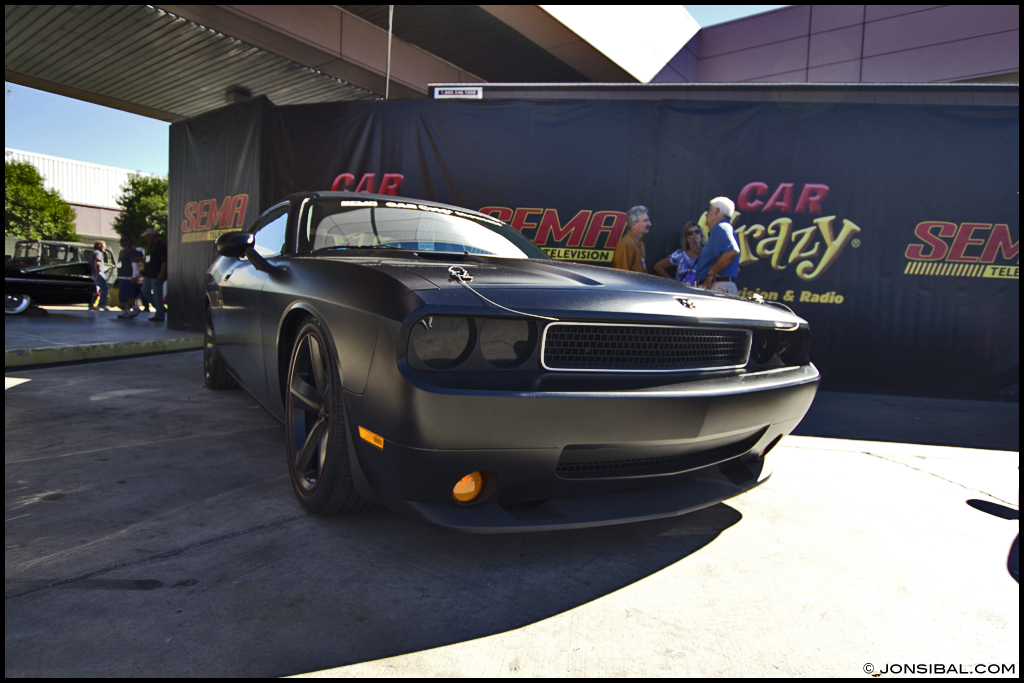 It was a good spot for Big Willy as it's probably one of the mildest modded car relative to the other cars there.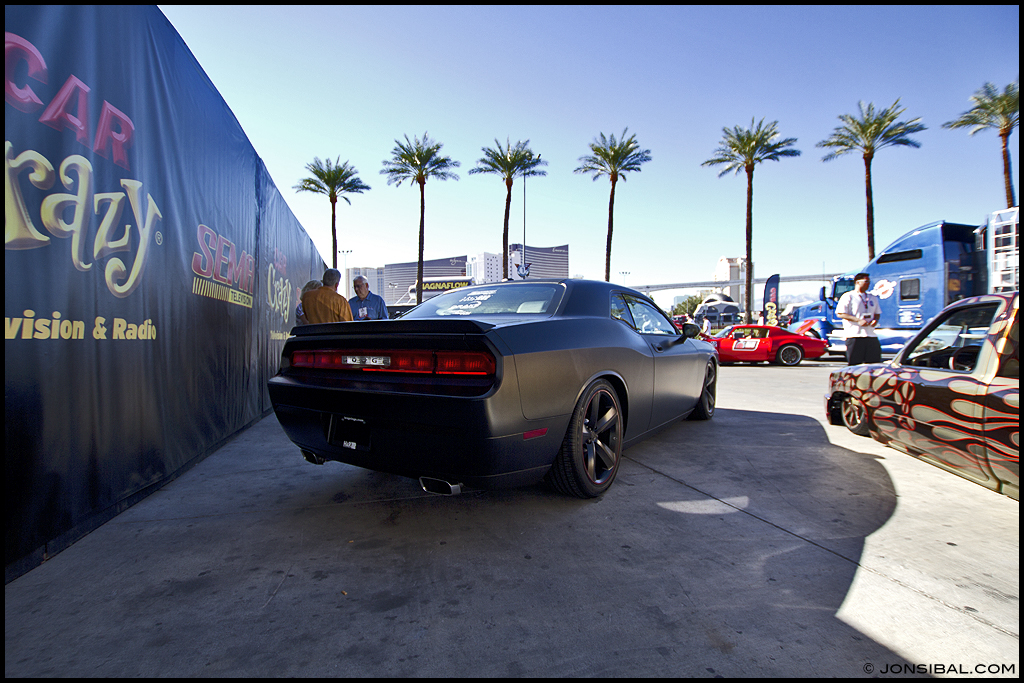 The Car Crazy Central stage was across from the Central Hall encompassing a pretty large area of the outside lot.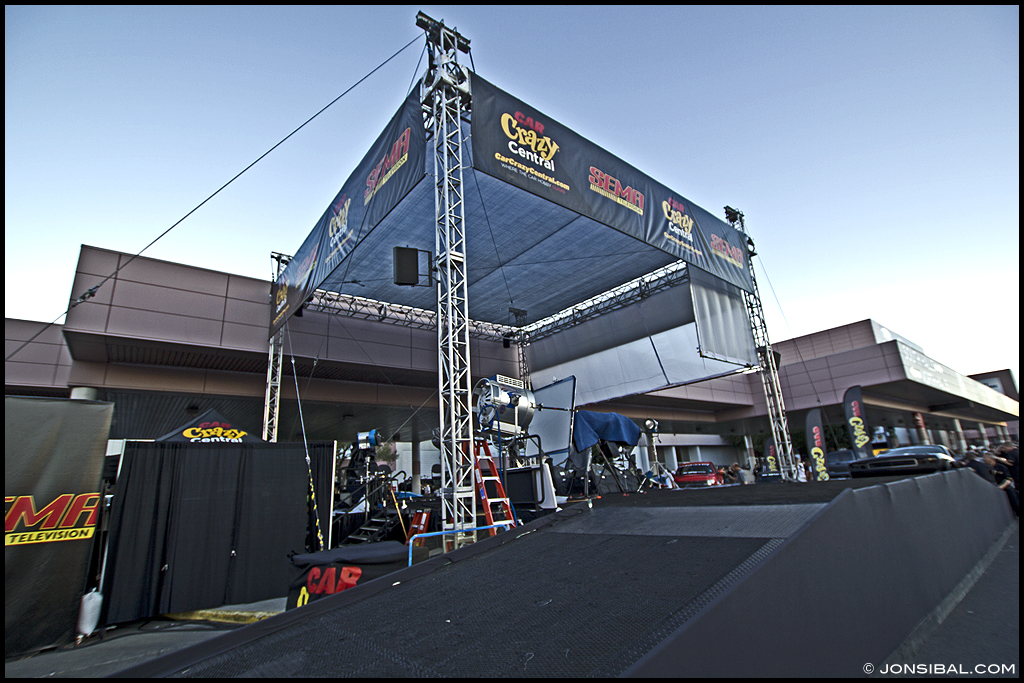 Towards the end of the show on Wednesday, I went back to the spot and found that Big Willy was gone. Kinda scratched my head for a moment and decided to walk around the area to see if they might have moved it elsewhere.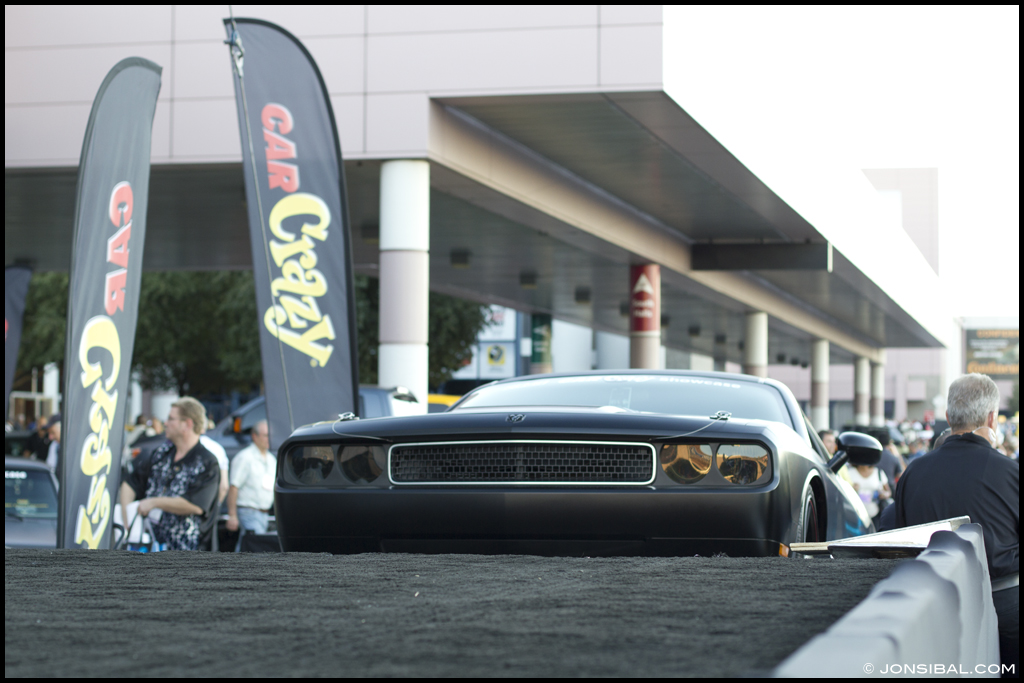 I was surprised to see Big Willy peaking his front end up the ramps of the Car Crazy stage.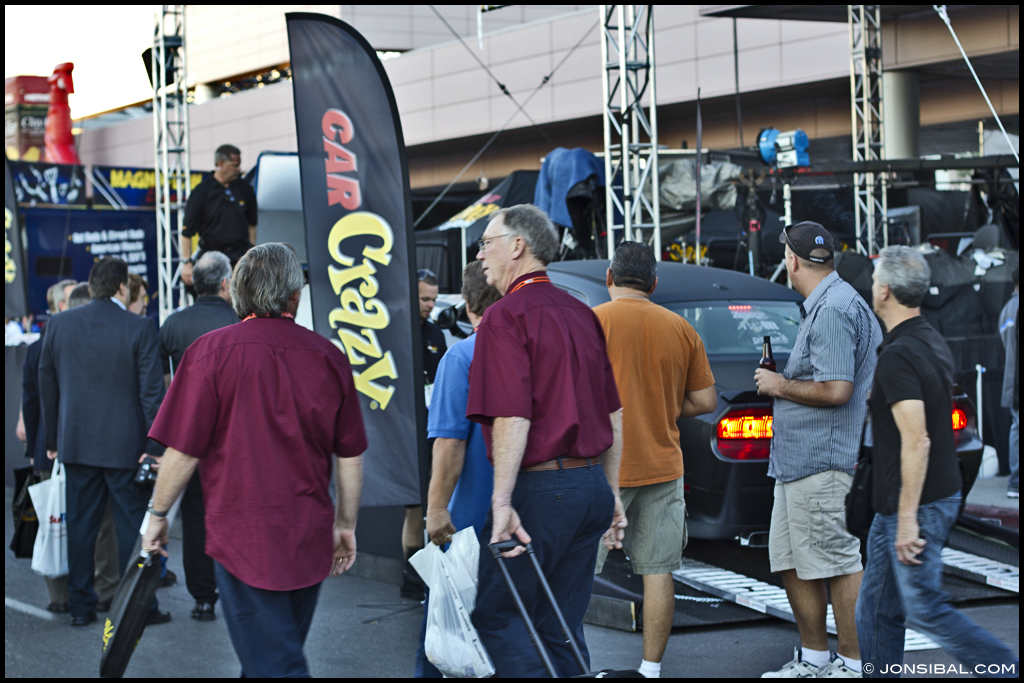 Big Willy is sitting on H&R Coil Over suspension and the crew wanted to make sure they can drive him up the stage with no issues.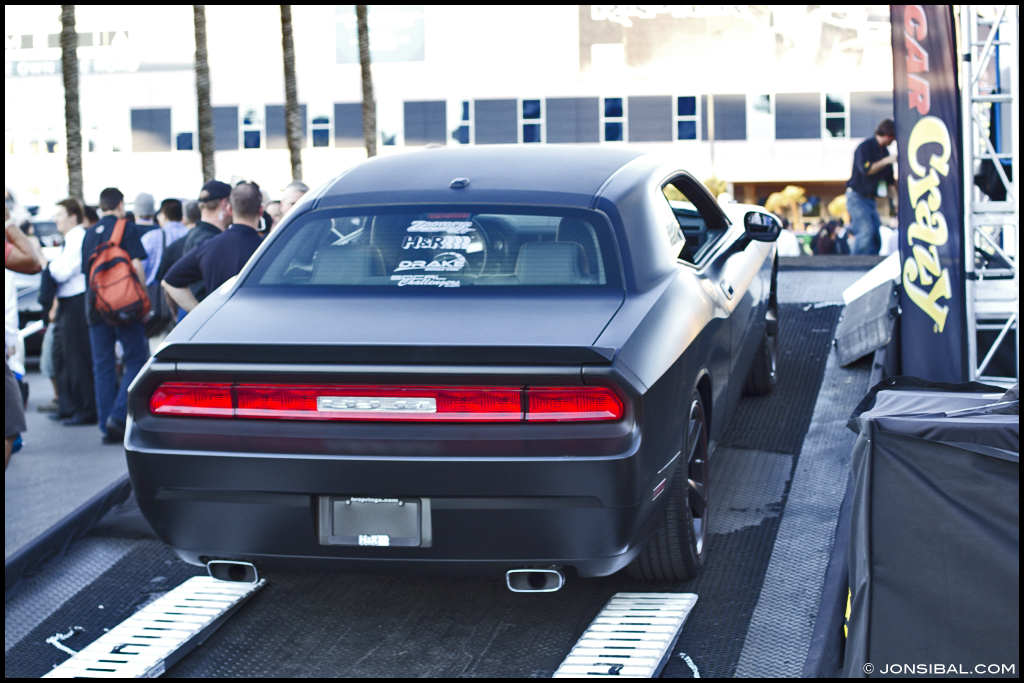 But it was easier said than done. The Car Crazy TV crew were very nice and professional getting him up the ramps without scraping the belly of Big Willy.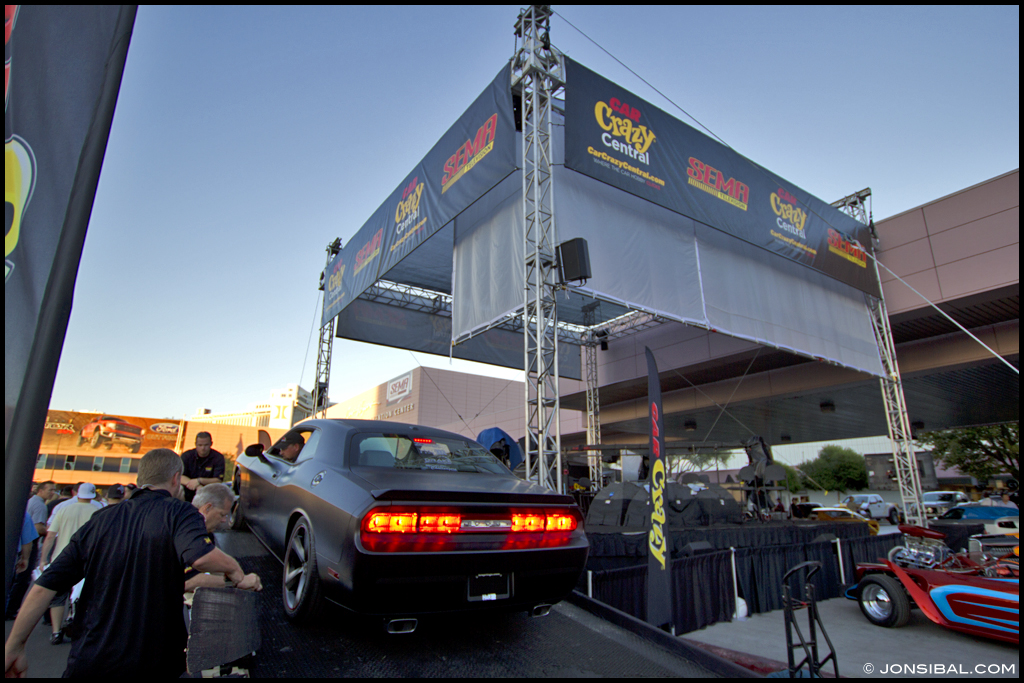 I thought it would clear the ramps easily but the patient Car Crazy crew didn't want to take any risk and diligently added blocks of wood and smaller ramps to clear the ramp cleanly.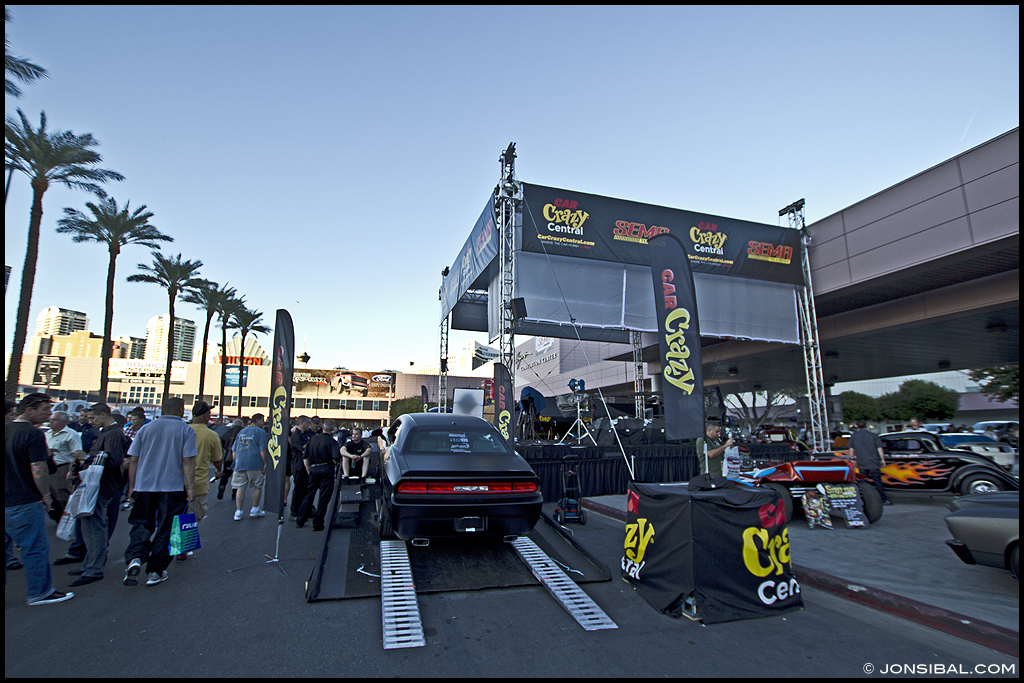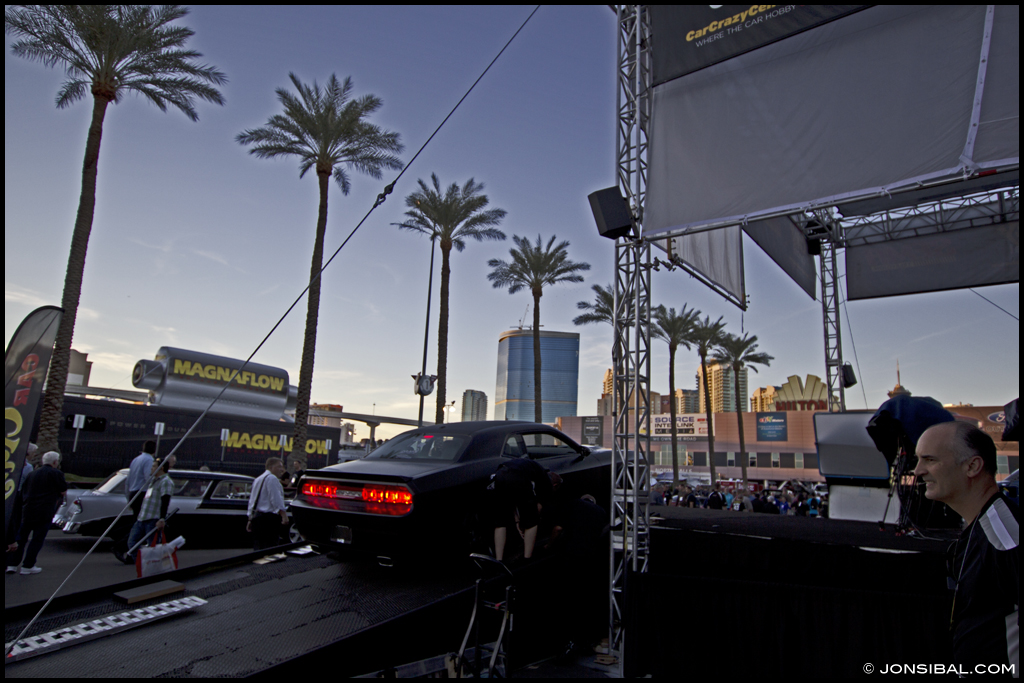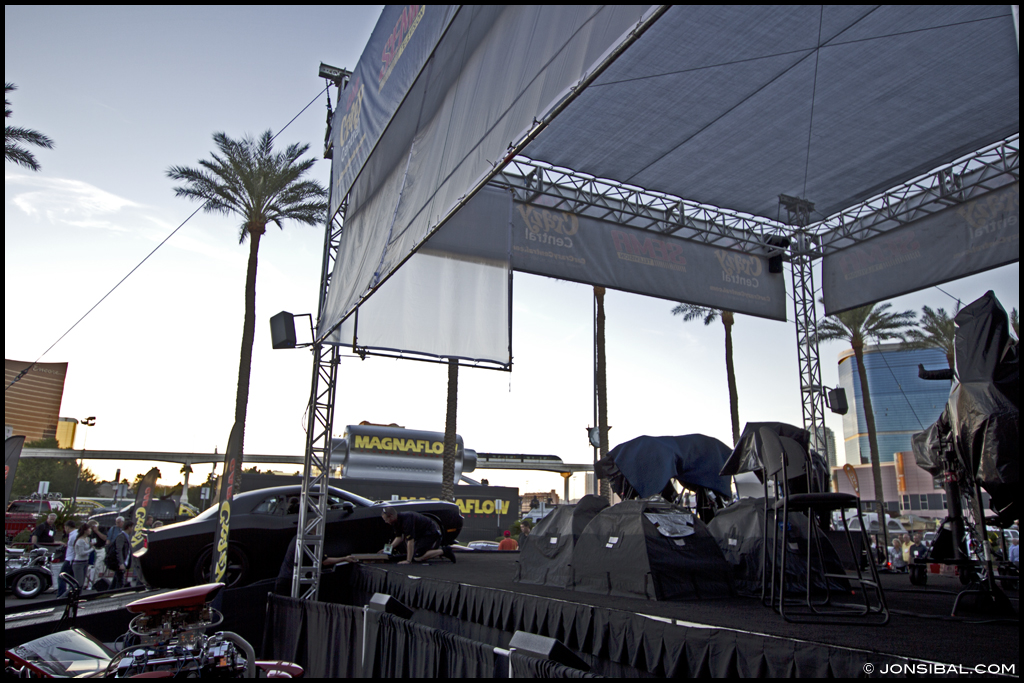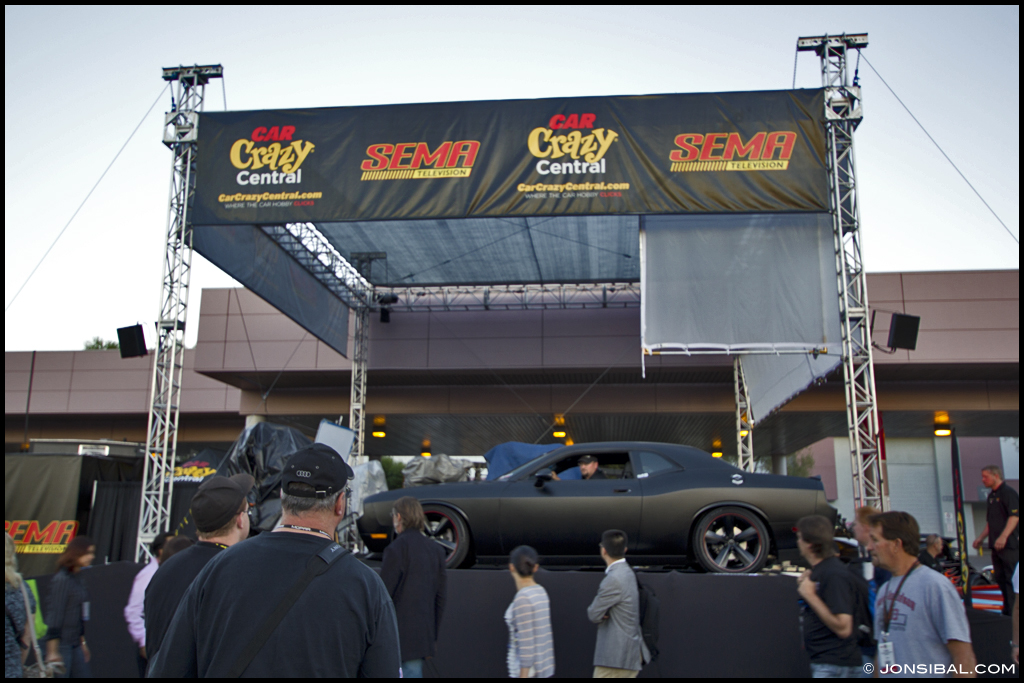 They were able to get him up there after a while in front of the crowd leaving the show. This was all done in preparation for our interview the next day.

Thursday 8:30AM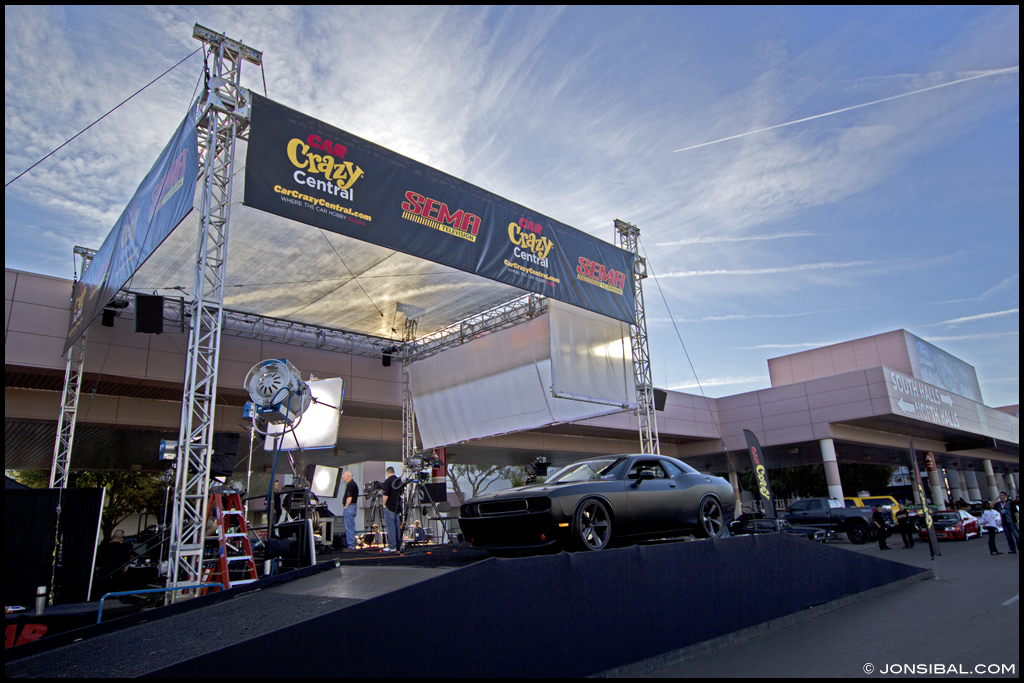 With my legs like jello from walking for 5+ hours from the day before, my wife Suzanne and I got up early thursday morning and head on out to the Car Crazy Central stage.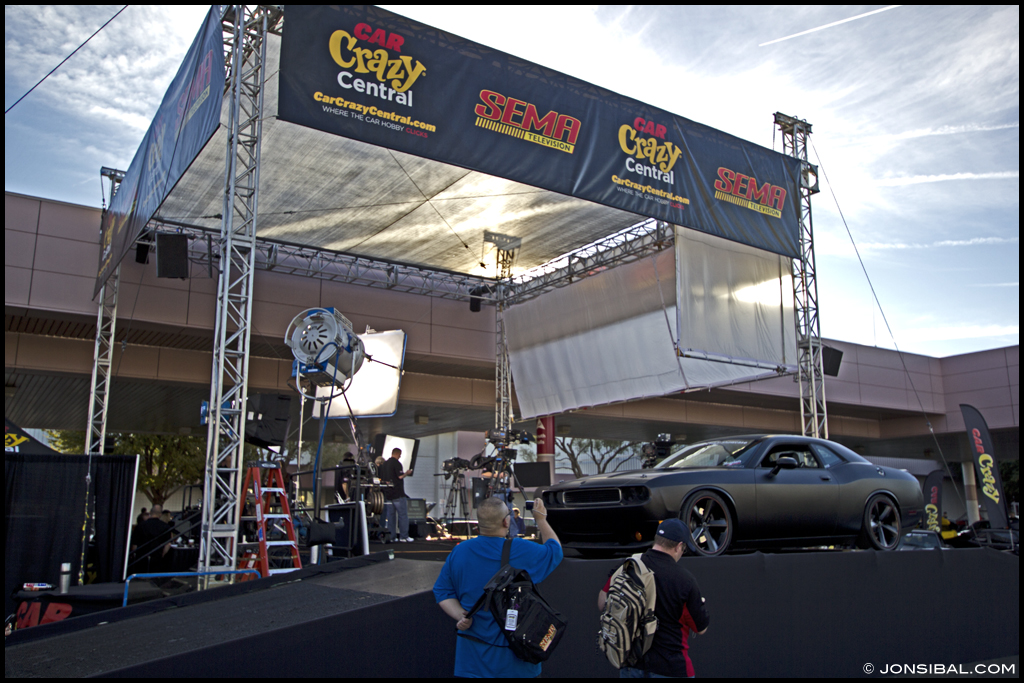 With SEMA opening its door at 8AM, car guys were already out and about getting an early start.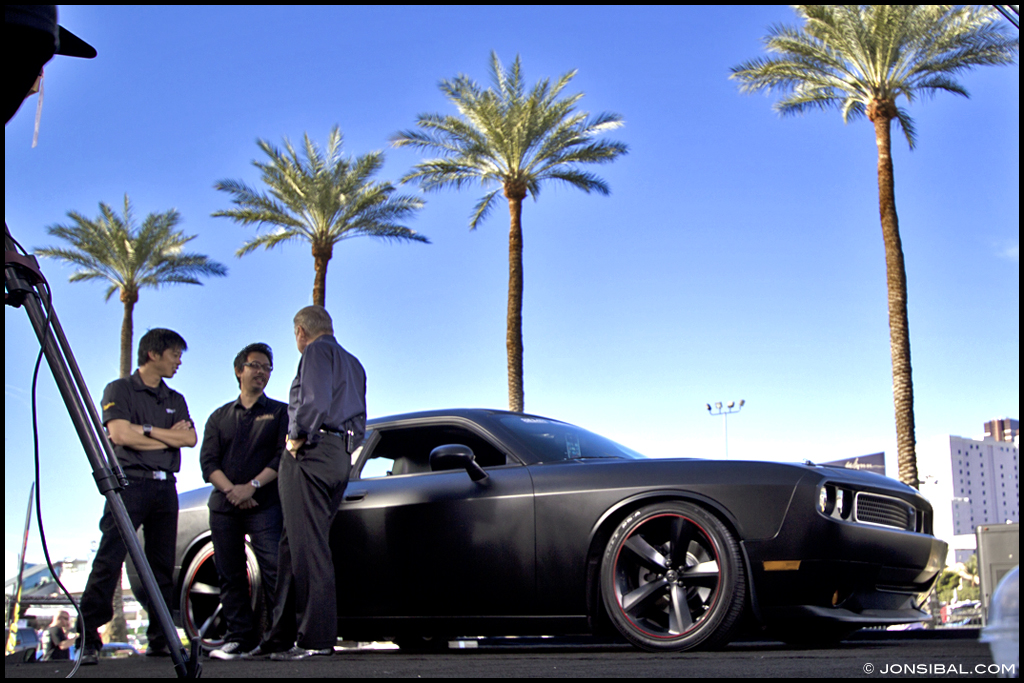 RJ and I got mic'd up and got on the stage by 9AM. I was a lil nervous but RJ and Car Crazy TV show host Barry Meguiar hooked it up and made the process fun and quick.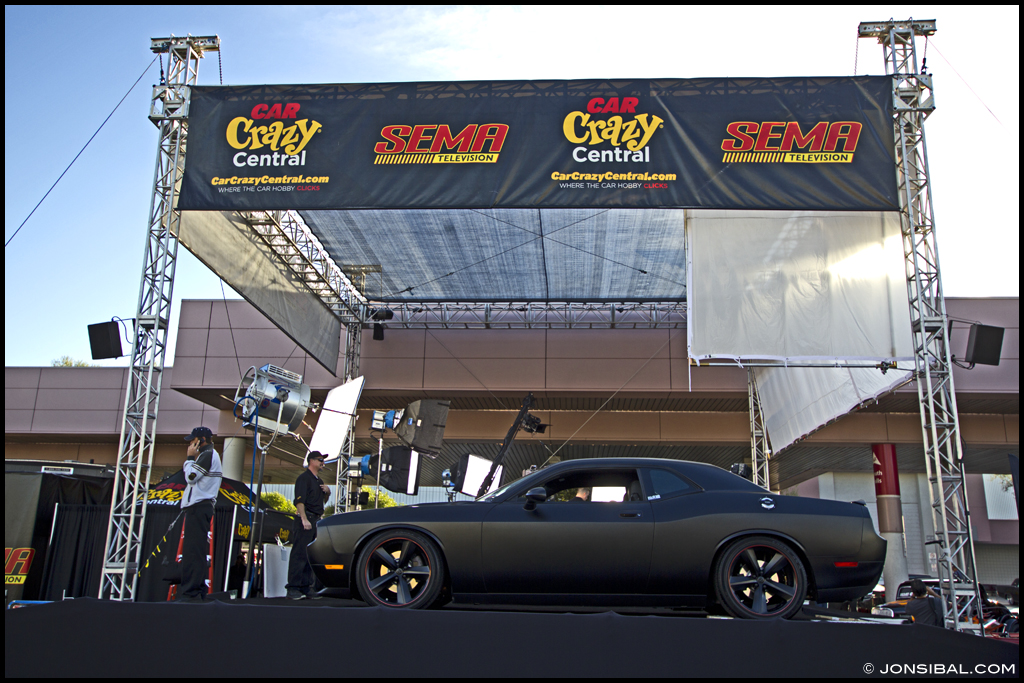 Right after, Suzanne and I went back to our hotel room to rest and pack before checking out. Grabbed a good breakfast and head on out to the airport and we were out of there.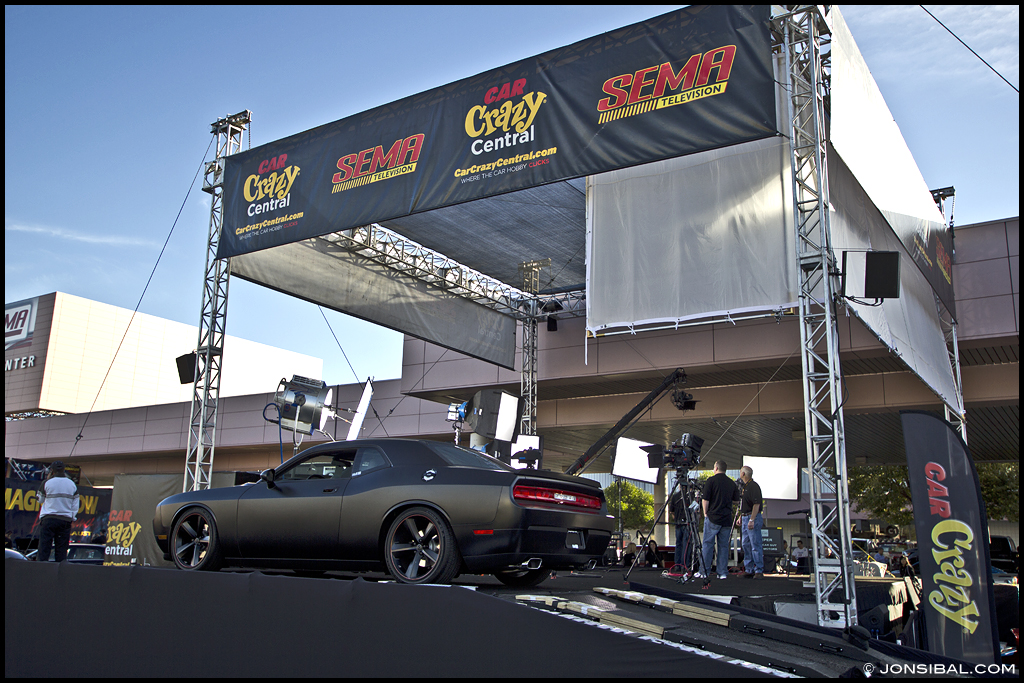 Big Willy went back up the stage on Friday for a live WRAPTIVO demo wrap.
I wanna say thanks again to my wife Suzanne for taking care of everything for our trip, RJ for his wizardry in coordinating everything, Wraptivo, Meguiar's and Car Crazy Central crew along with my other sponsors – H&R, Zoomers, and DRAKE Muscle Cars who made it all possible for Big Willy to be prepared for the biggest aftermarket party in the world.