2012 Ferrari GT Concept
13 January 2011
6 Comments
A handful of very interesting cars will be debuting at the 2011 Geneva Motor Show. Personally, I'm looking forward to what the Lamborghini LP700-4 really looks like compared to my rendering. Click HERE for more info.
Not to be outdone, Ferrari is also scheduled to unveil a whole new car – something Ferrari will surely generate a lot of discussions. This new Ferrari, although covered up in heavy camo, was caught on video while doing some road testing. Sounded so goood!

Ferrari have been developing a 612 replacement for a while now. In addition to the video above, a few spy shots have surfaced giving us a tiny peak with some of the exposed areas of this new model. Autoblog have recently posted a great shot of it. There were some speculations that this new 2+2 GT model will be a "Shooting Brake" configuration while others argue that it's a whole different car. Personally I believe this grand tourer will have a shooting brake style rear end but with the roof more slanted like a coupe – almost like that of the classic Porsche 928. Either way, according to the article from Auto Express, Ferrari did confirm that this new design concept is to see how far they can take the Ferrari DNA outside of their traditional Supercar format.
And so I thought I have a go at what this Ferrari 612 replacement might look like underneath all that camo.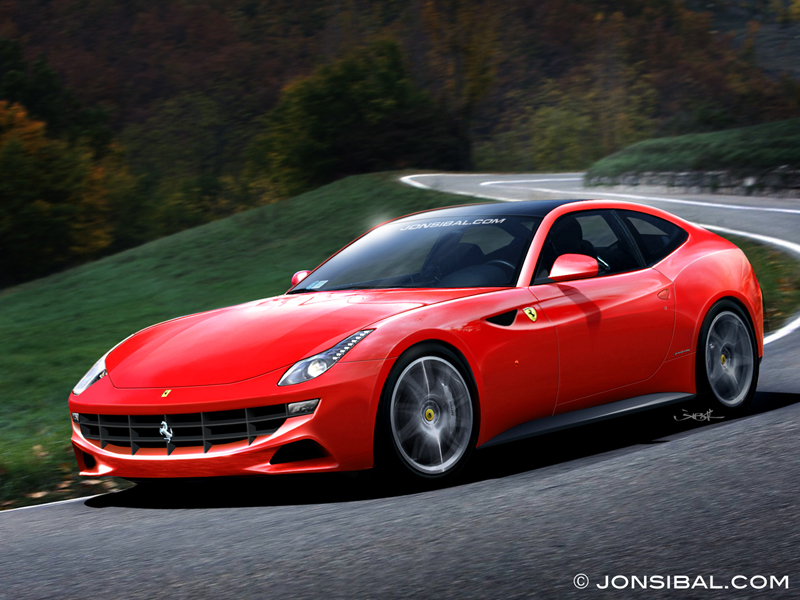 CLICK HERE FOR HI-RES
Design Features
The headlights are very similar to the 458 Italia only differing in size and proportion. The front bumper is something new and different. The side body panel is a mix of the 599 and the California. And the shape of the green house is undoubtedly a Shooting Brake. The wheels are the same set from the Ferrari 599 SA Aperta which were also the wheels seen on those test mules. The roof is full glass sloping down to the rear.
Update: 01/12/11
I updated the side vent design per the leaked invite card info.
Other info about this car:
Code Name 151
New 6.3 Litre V12
7-Speed Dual Clutch transmission
670 BHP
208 MPH Top Speed
0-100 Kilometres in 3.7 Seconds
I have a feeling that we'll get a sneak peak of this car before the 2011 Geneva Motor Show. A few have already seen the car and Ferrari will continue to give sneak previews to their elite clients leading up to the big reveal in a couple of months.