FATLACE x JONSIBAL
2 February 2011
9 Comments
While I was at the SEMA Show last year checking out the Scion tC GT I designed, I bumped into FATLACE founder Mark Arcenal. In our brief encounter, he mentioned his latest acquisition – a 1974 2000GT Skyline. "I just had to buy it man, and I wanna give it away!" in which I replied "dude you're crazy". He smiled in agreement but he proceeded to tell me that he wanted to collaborate with me in designing it. So by this time, I'm thinking he really lost it. But as he continued to described the style and listed each mod, almost as if we were looking at it in real life, there was no denying he's set on doing this. It was a no brainer for me so I jumped at the opportunity.
We touched based afterward with him emailing me some photos of the bone stock car. I wasn't able to create the rendering right away due to my other projects at hand but thankfully Mark was a patient man. After the new year, my work load started to be a bit manageable and was able to get cracking on Mark's vintage Skyline project.
So for this post, I'll try to do a step by step process on how I rendered Mark's ideas into digital artwork with the aid of Photoshop CS5.
To start of, here's a shot of the '74 2000GT aka C110 Ken & Mary as shot by Mark shortly after taking delivery.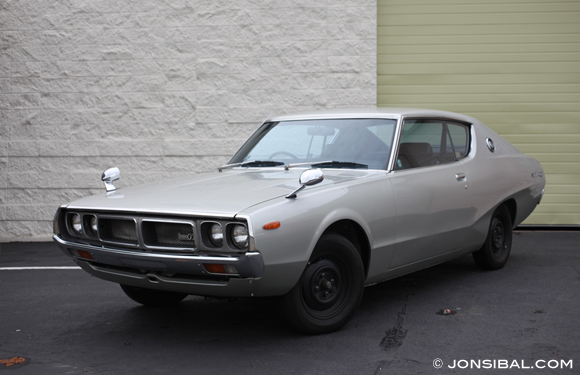 The first order of business is addressing the stance. So down she goes.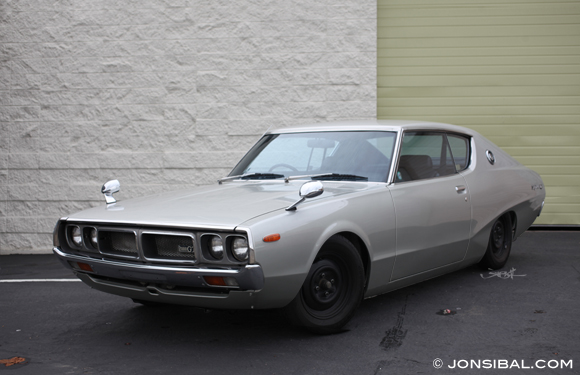 One of the things I thought that we had to do was blacking out ALL of the chrome pieces from the front grill and window trims, front and rear bumper, mirrors, door handle and fuel lid cover.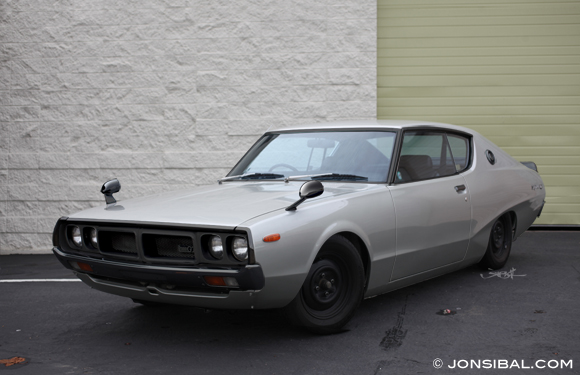 One of the most significant modification that you can do to the exterior of any car is a set of nice wheels. And for this project, Mark chose the RAYS TE37V coated in black. He also requested for the fender flares to be added so we can push the wheel fitment further out for that old school stance the car was dying for.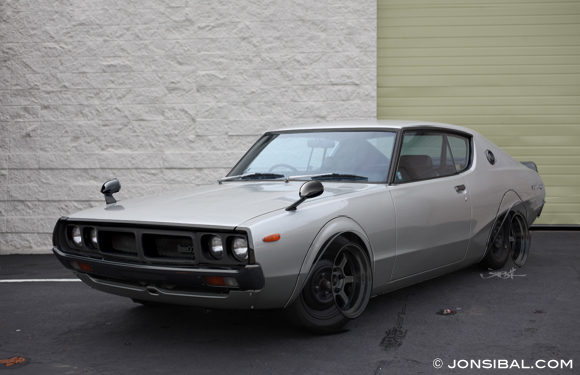 Here's how it looked so far with the fender flares and wheel/tire combo set and done. C110 is shaping up nicely.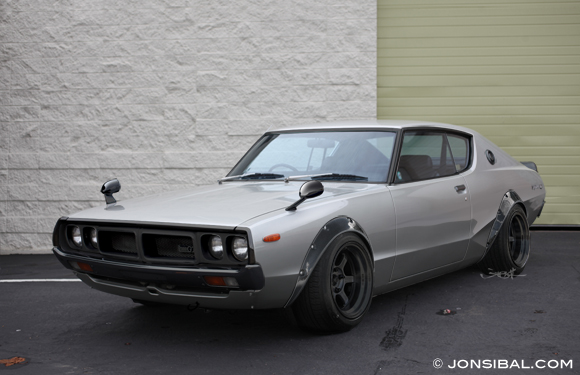 I then moved on to the next mod which is the front lip. Adding this part balanced out the car visually. I left it in black to match the whole silver and black theme going on.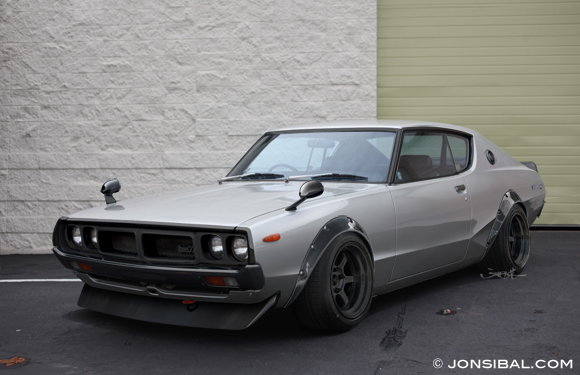 Since this project car will be used as a promo for FATLACE, I added in the necessary decals to identify who built this ride.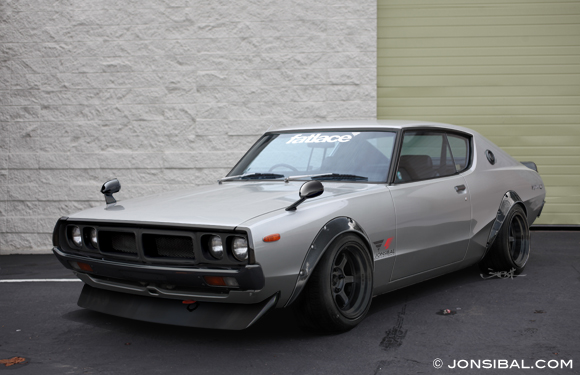 By this time, the car is practically done. I thought I work on the surrounding areas so I added a reflection of the car in the ground.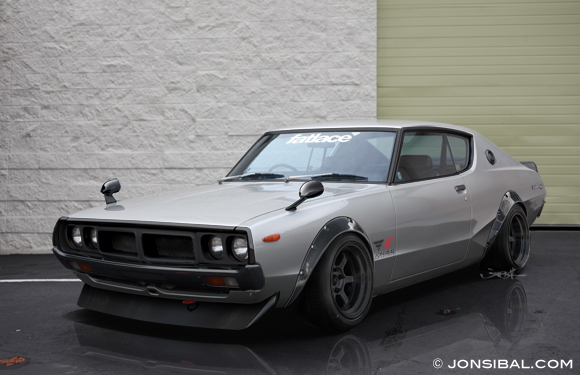 Hmm, what if we drove the car to a different setting just for fun. Well here's how it looked.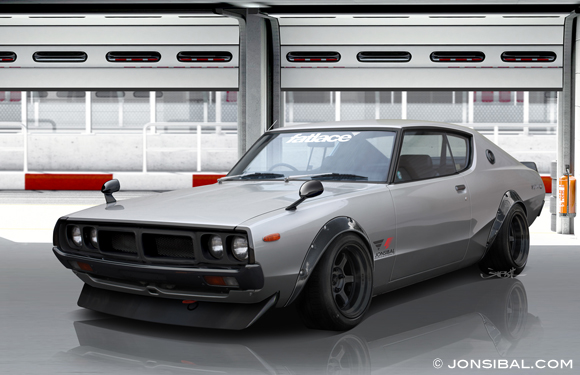 CLICK HERE FOR HI-RES
Below is the animated transition from the base picture to my rendering. (thanks Jeff)

With the rendering done, I had a mixed feeling of excitement and sadness. With the latter only due to the reason that being part of this promo, I'm disqualified to win this car. But def. excited that the rendering turned out right and even more excited for the lucky winner who gets to drive it home.
---
Official info from FATLACE: Skyline Giveaway
On February 20th, 2011 at Wekfest in San Francisco, Fatlace will be unveiling it's latest classic car project, a 1974 Nissan Skyline 2000GT which will be given to one very lucky person at our end of year event, Fatlace Klassik. Details will be announced at Wekfest and online the following day, 2.21.2011. We hope to see all of you there and make sure to check back frequently as we drop some sweet video gems of this build.

Sponsors: Fatlace, Rays, Toyo Tires, Speedhunters, Super Street, Jon Sibal.

Each month, the Skyline will be updated, modified and documented and as it starts its life being a stock body 2000GT Ken & Mary, it'll turn into this render by the one and only Jon Sibal who I teamed up with to create this masterpiece.


** More details on 2.21.2011 but for those that need to know now..
1. Need not be present to win
2. Winner to be announce at Fatlace Klassik

Stay tuned to FATLACE.com for updates.