Night with the FR-S and Friends
1 December 2011
2 Comments
If you've read my blog for the past few days, you'll noticed it's been filled with nothing but Toyota 86/GT86 and BRZ topics. So when I had a chance to view the unveiling of the US version of the modern day Hachiroku, I dragged my buddies Albert Roxas and RJ de Vera along with me last night.
Albert was kind enough to drive us in his E90 M3 aka party bus LOL. Albert had suggested that we leave earlier just in case and I should've listened! The freeway was at a stand when we hit the 101 and so we got off and RJ, being a native of downtown LA, helped Albert navigate through the side streets. Even with the Valet slowing Albert down, we were literally the last guests to get there! Phew. Note to self: Listen to Albert's advice next time.
The scene as we walked in after getting our wrist bands..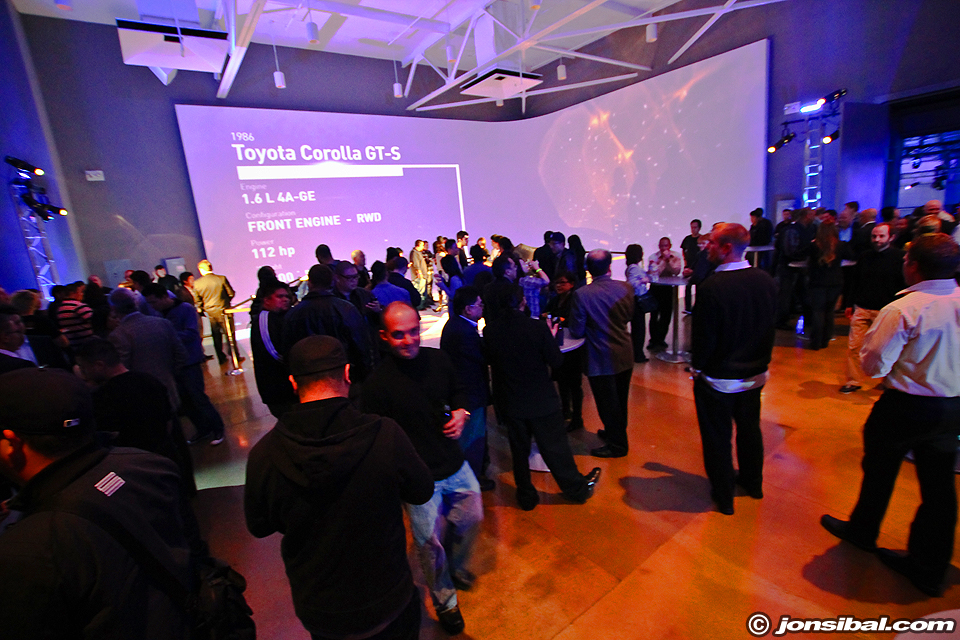 Albert in the middle of the room buzzing with anticipation.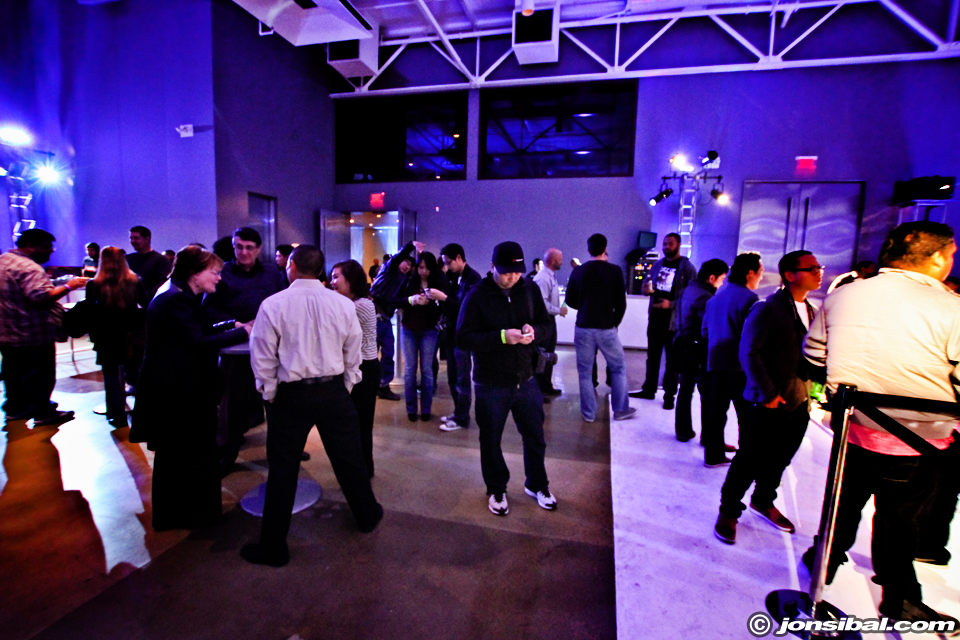 The first car we saw displayed in the event was a nicely modded AE86 owned by my good friend Brandon (BOWLS LA).

Behind Brandon's ride, SCION had specs of past RWD Toyotas flashing up in in the screen. Just a hint of what to expect.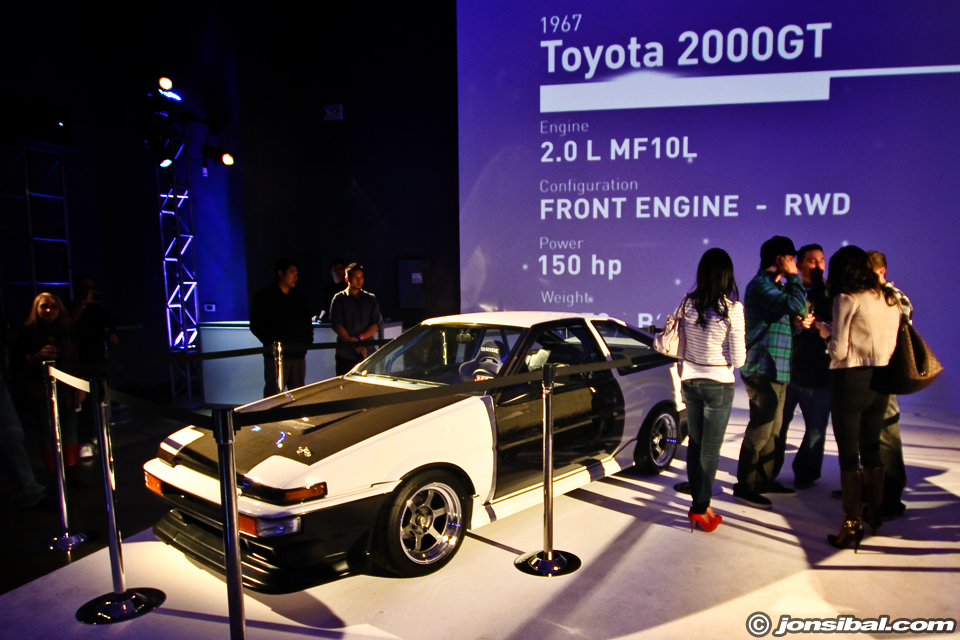 Next to Brandon's Hachi was the satin sheet-covered Scion FR-S. Wishing we had Superman's X-Ray vision right about then.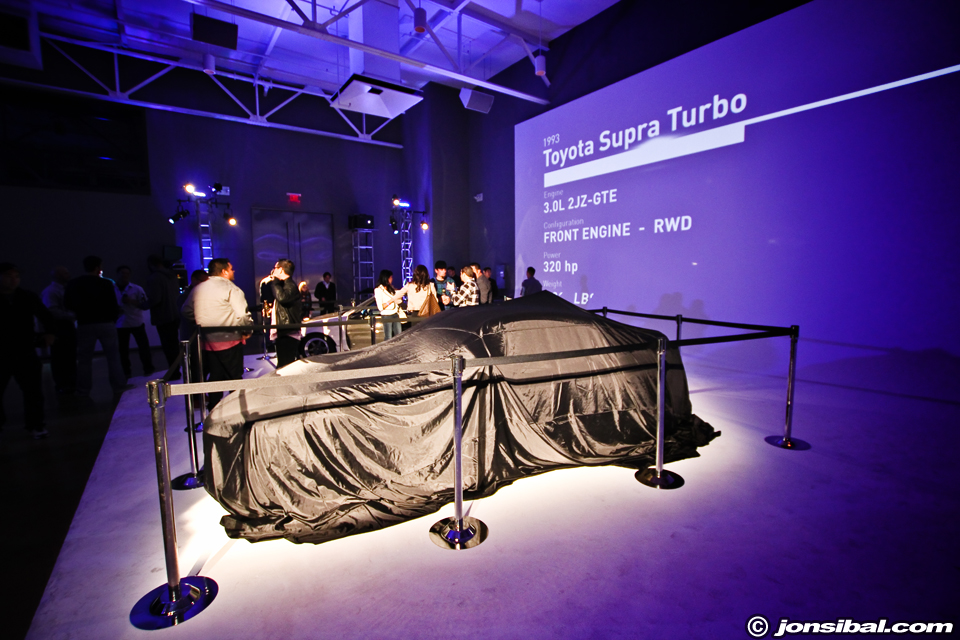 Across from these cars were a row of Gran Turismo 5 video game racing simulation cockpits to let the guests take the FR-S for a spin in the virtual world.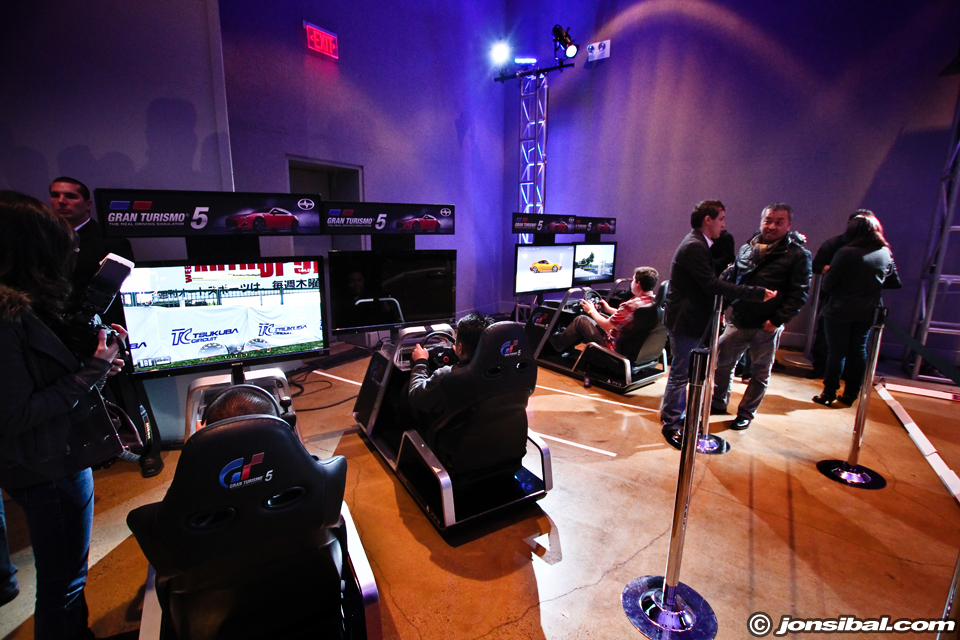 HPI Racing also had a fun track set up showing off some of their scaled Toyota/Scion RC cars.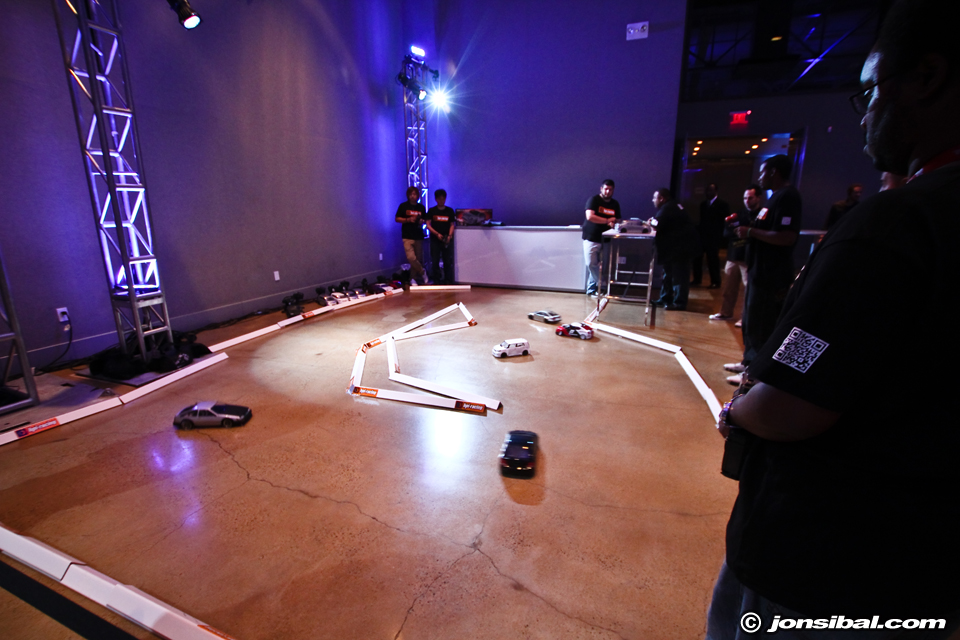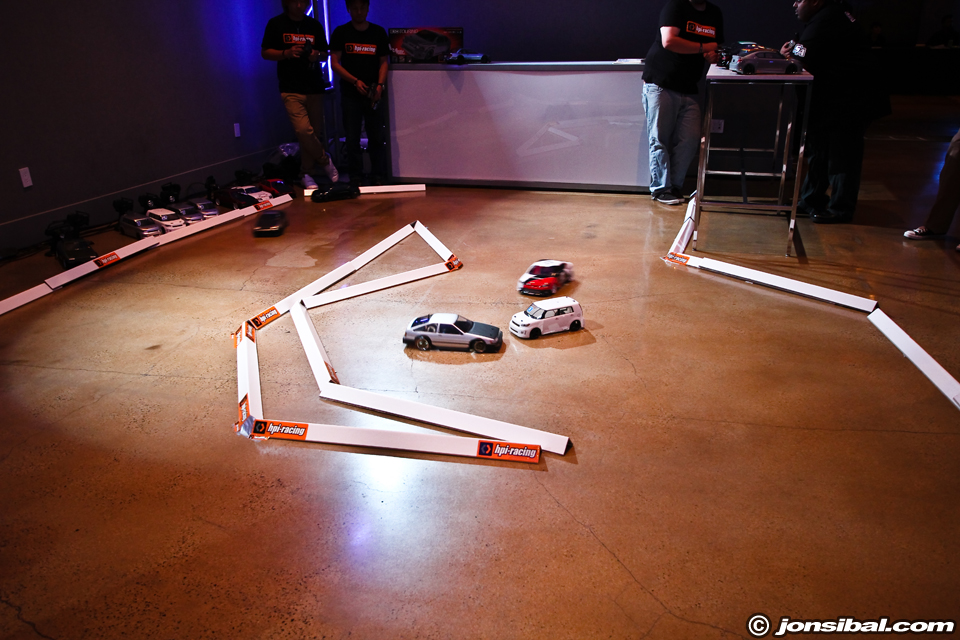 And right about 8PM, we all headed to the main area… it was jam packed to say the least!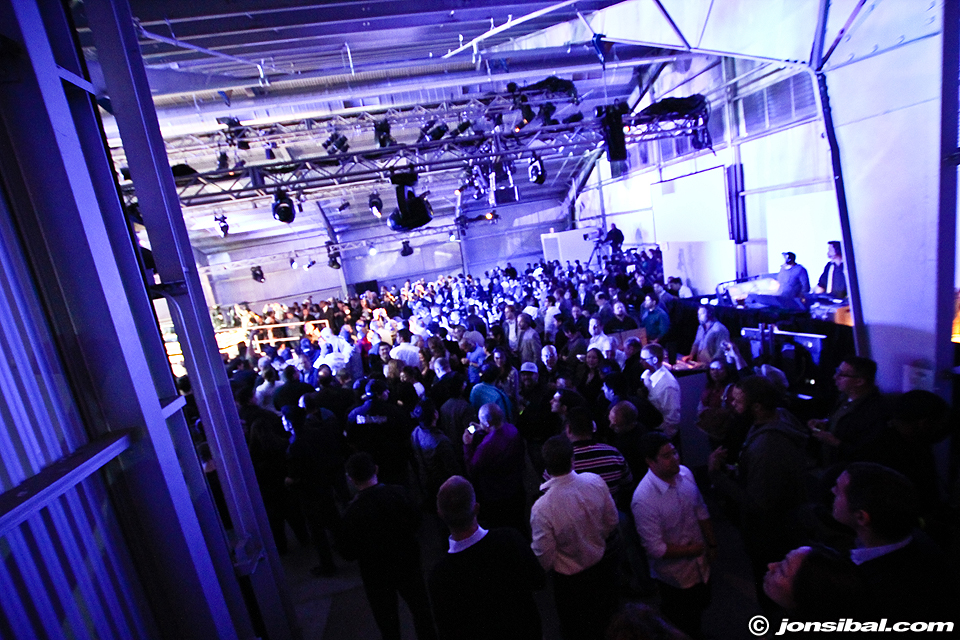 The crowd filled up the MILK Studios hanger-like area waiting to see the US version of the Toyota 86.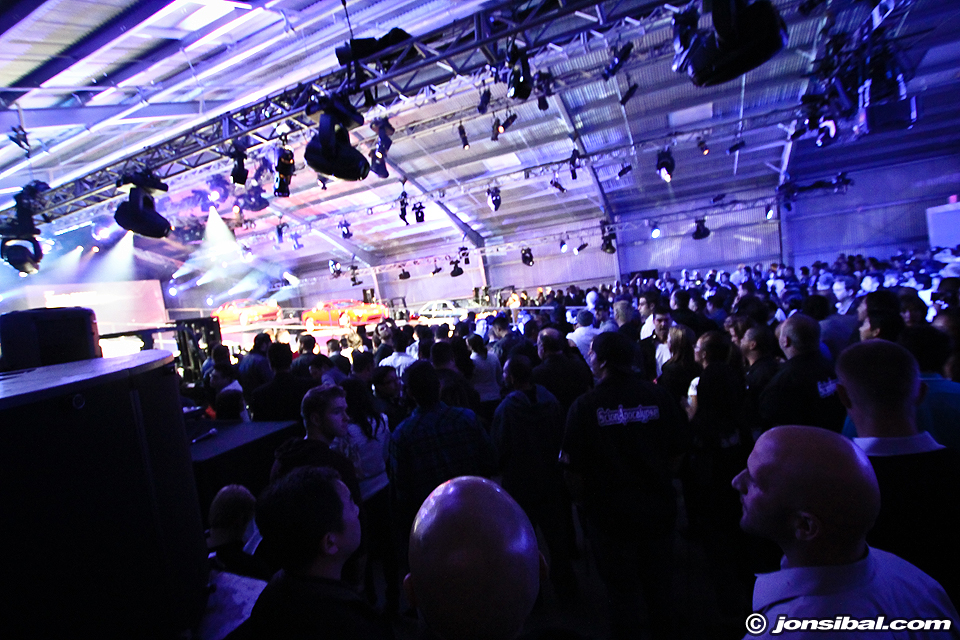 Albert and I squeezed our way and ended up at the left side of the stage..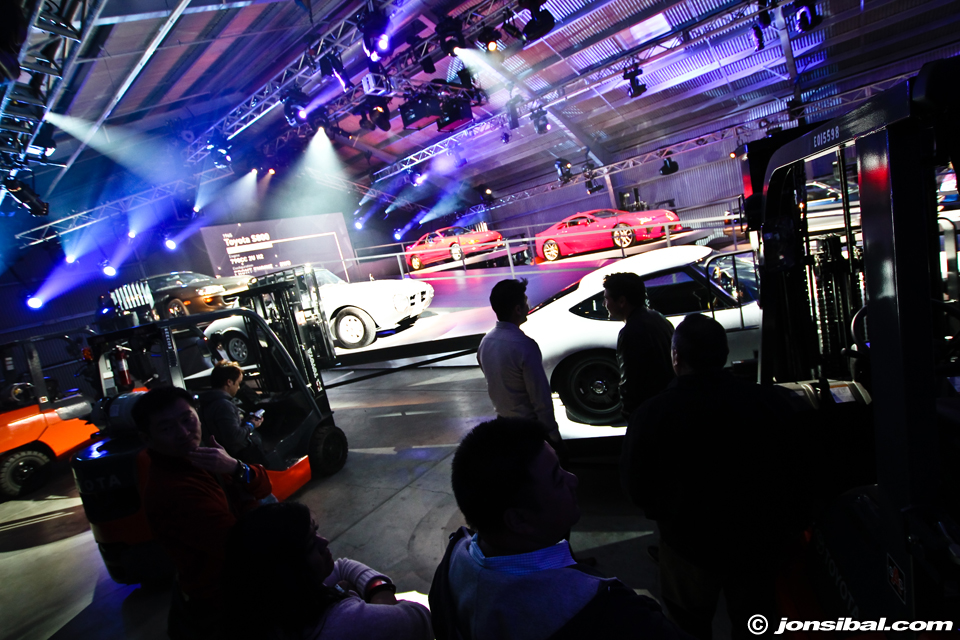 Scion had six historical and iconic Toyota vehicles on display planking both sides of the stage.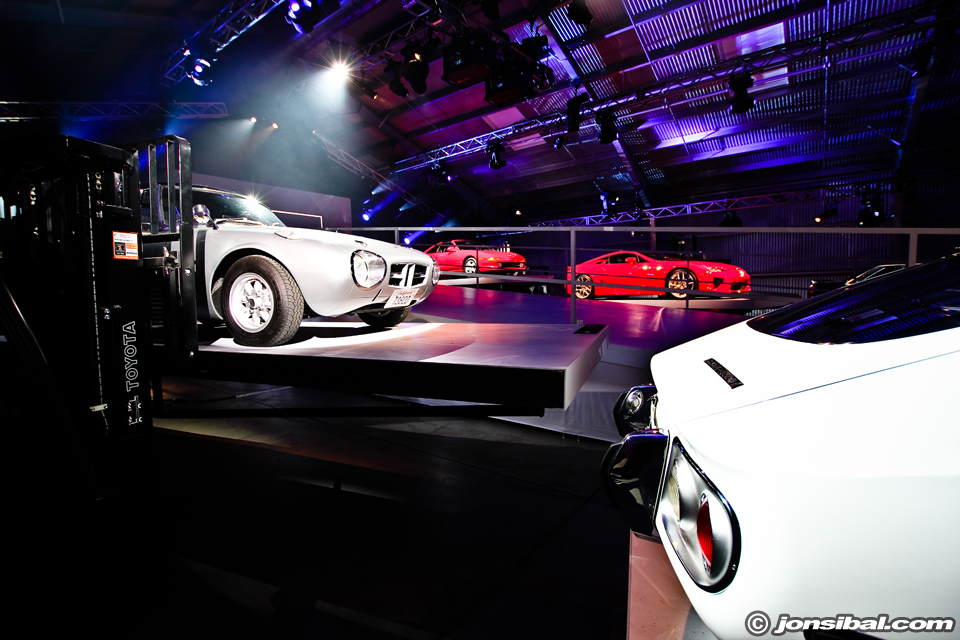 From the Sports 800, to the W20 MR-2…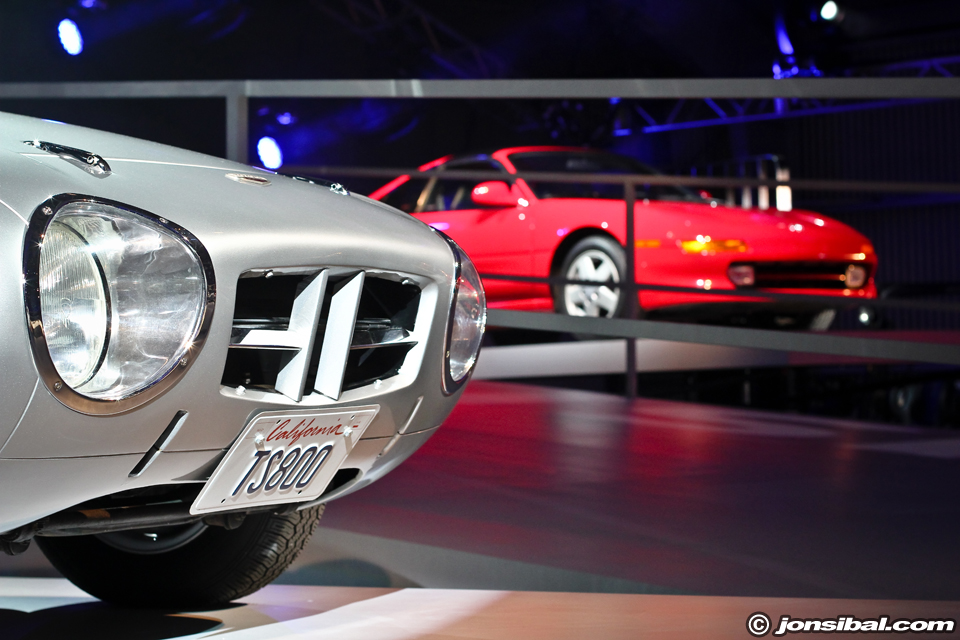 …to the 2000GT and (blurred) Lexus LFA, the six cars displayed were carefully chosen to usher in the latest car from the brand.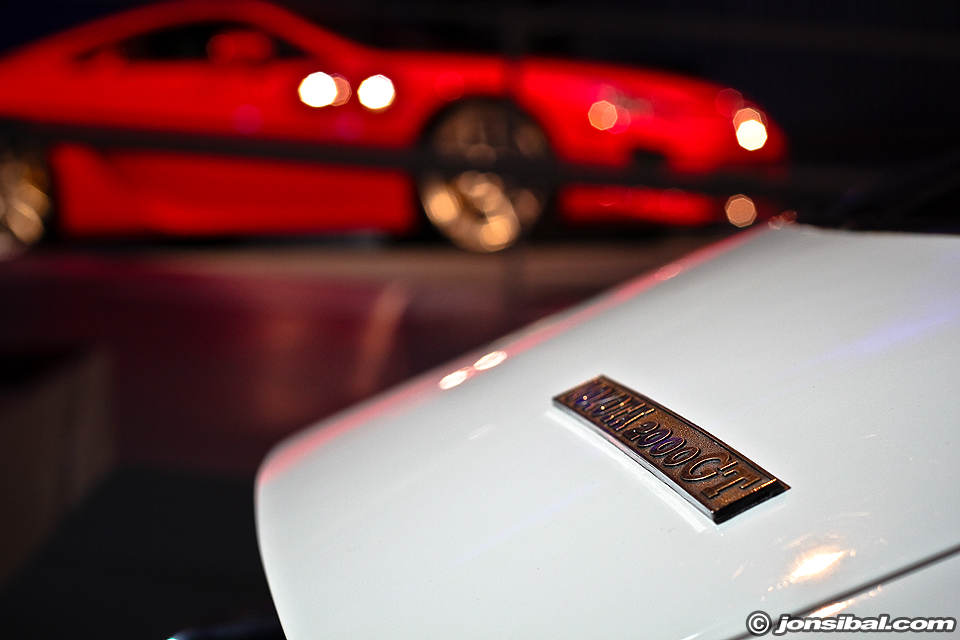 Another shot of the 2000GT, the Sport 800 and the Supra…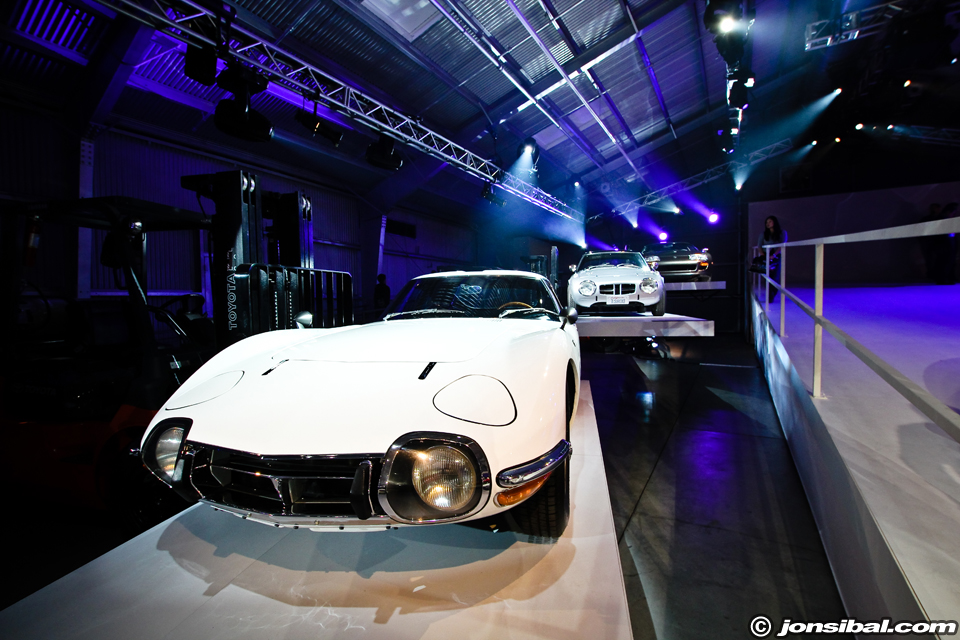 And before we knew it, it was time. Check out the video below from NIGHT-IMPORT of the moment the FR-S was unveiled.

SCION VP – Jack Hollis (seen in the right side of the photo), moved aside to let the crowd take in the sight of the 2013 Scion FR-S.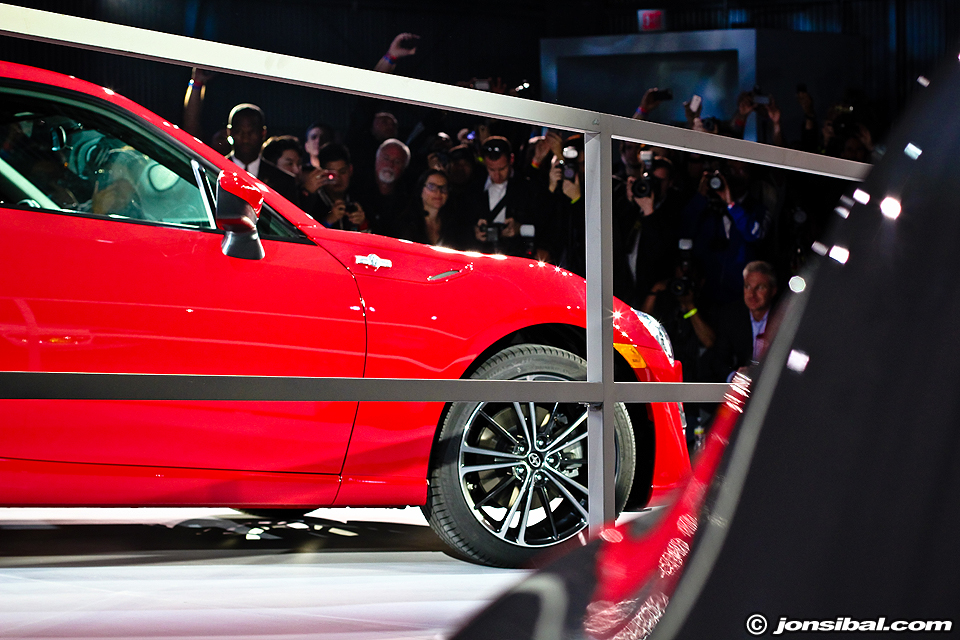 Since we were stuck at our not-so-good spot, the only great thing that came out of it was we were able to read along with Jack's speech in the teleprompter.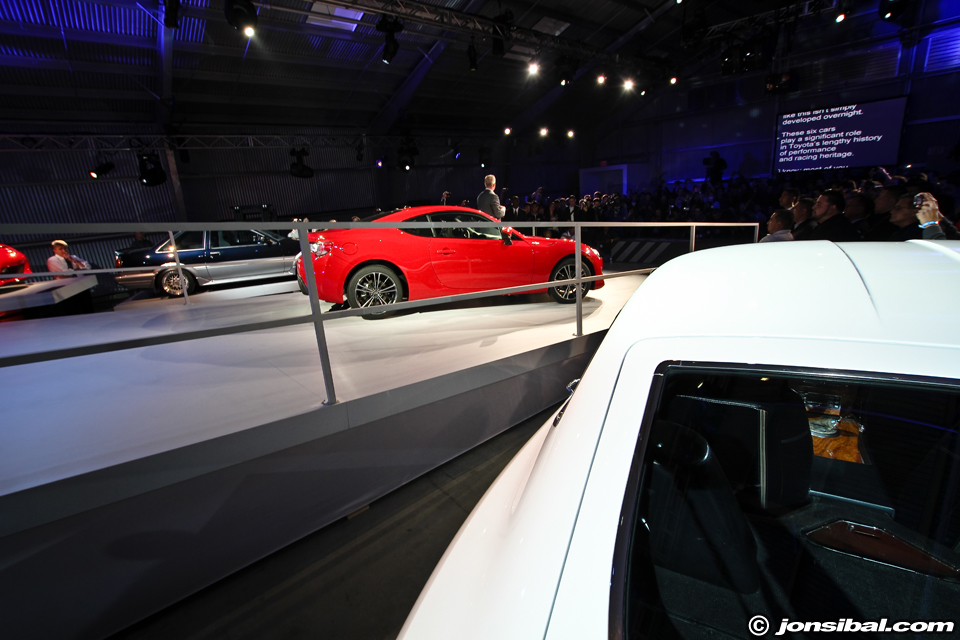 Jack interacting with the guests and giving some love to HPI Racing.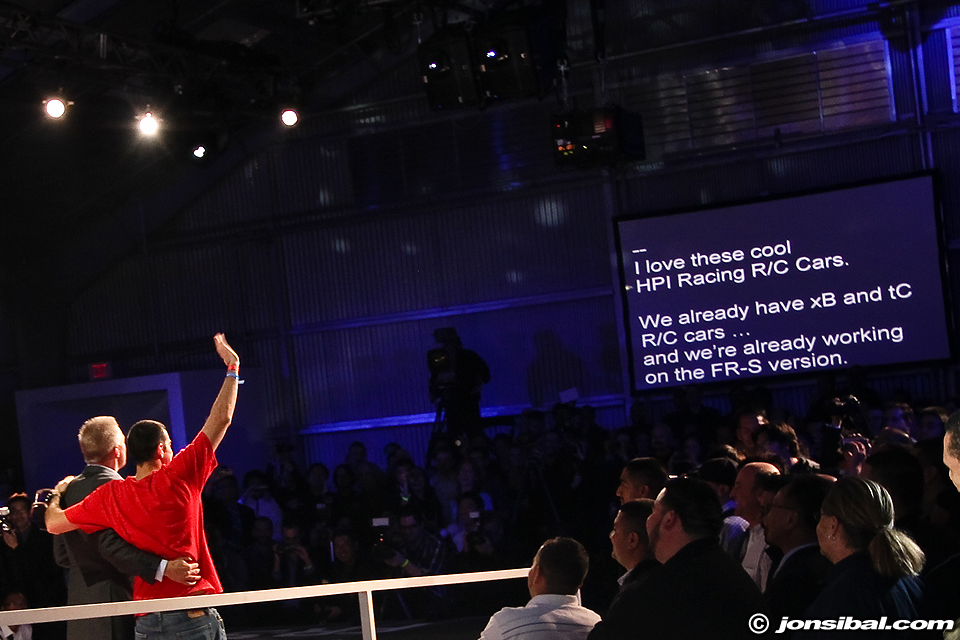 SPRING 2012!! This was the moment that everyone found out when we should expect to see the FR-S in the dealerships.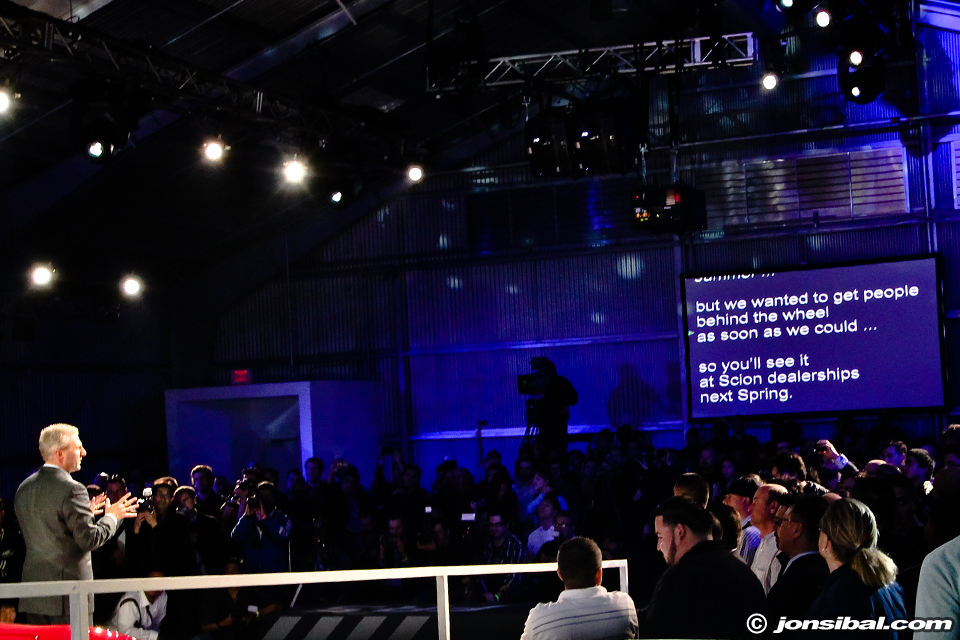 Jack also mentioned about more "NEW" things to share with us at the Detroit Auto Show next month. I'm excited and looking forward to see the new things.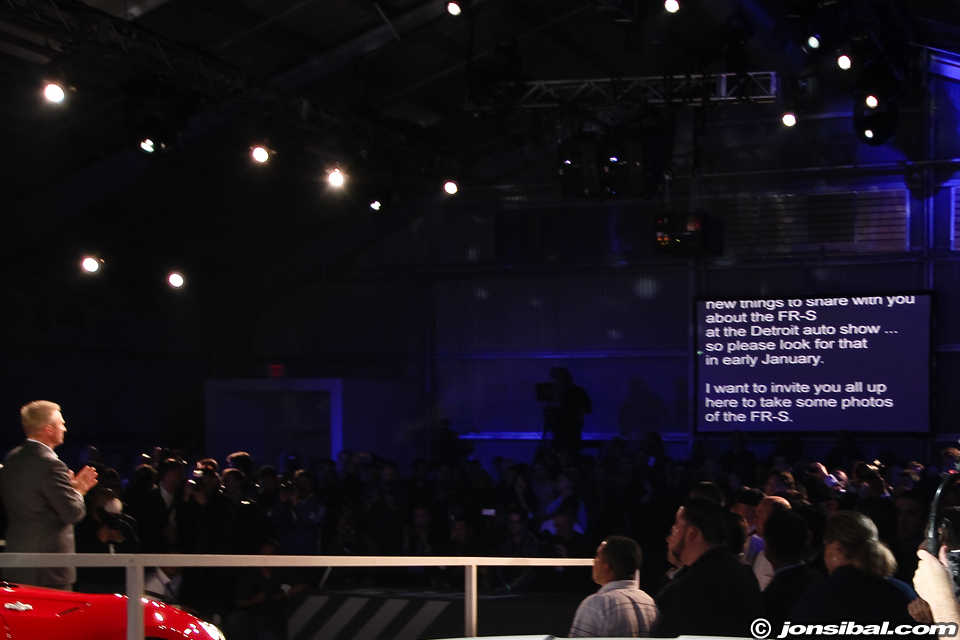 As soon as his speech was done, the crowd bum rushed the stage to get a closer look.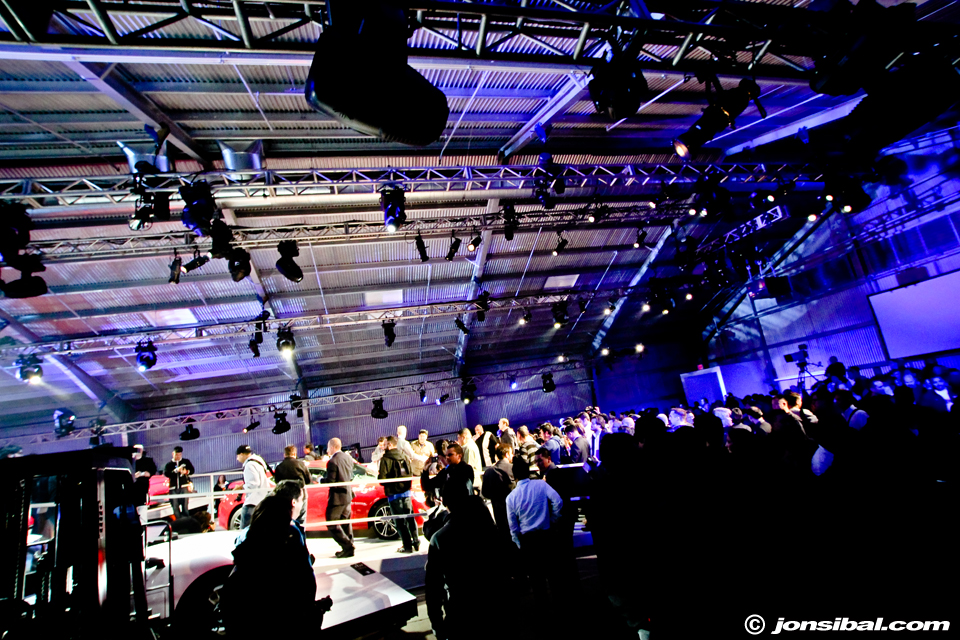 There was no way I was gonna be able to get a clear shot so I went back in the previous room to see the other car under the cover.
And once there, the satin sheet was removed unveiling the first ever modified FR-S!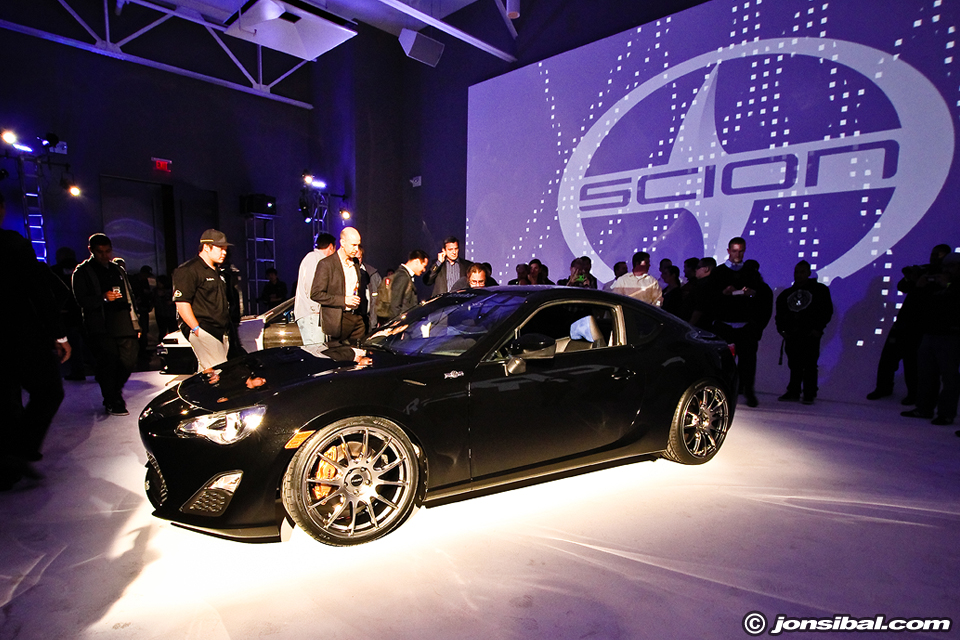 The crew from GReddy received the car after Thanksgiving and worked overtime to get this car ready for the unveiling.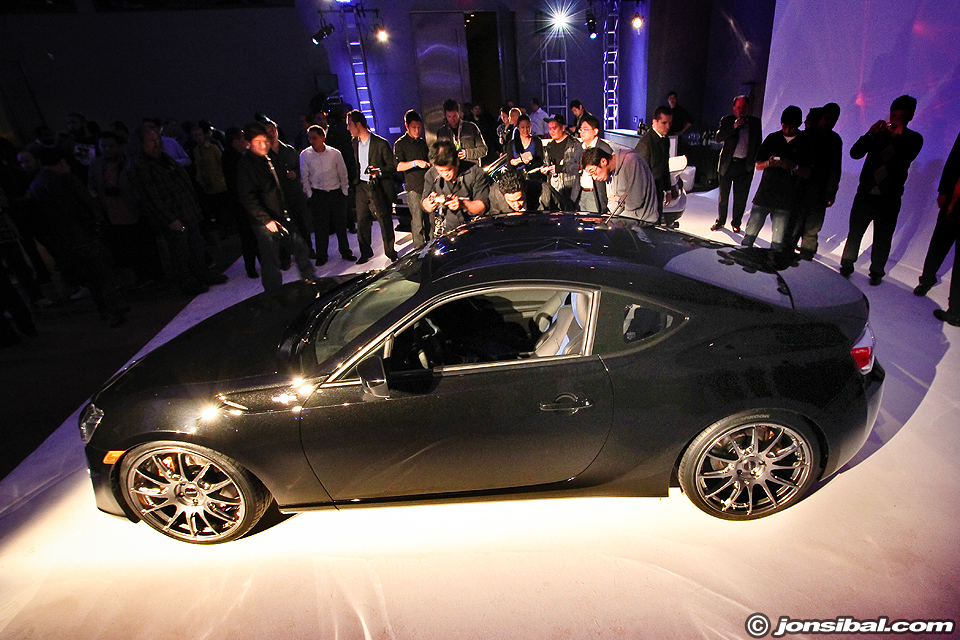 With really no parts available for this car yet, GReddy upgraded the wheels, brakes, suspension, exhaust system, and interior of the car all in just a matter of days.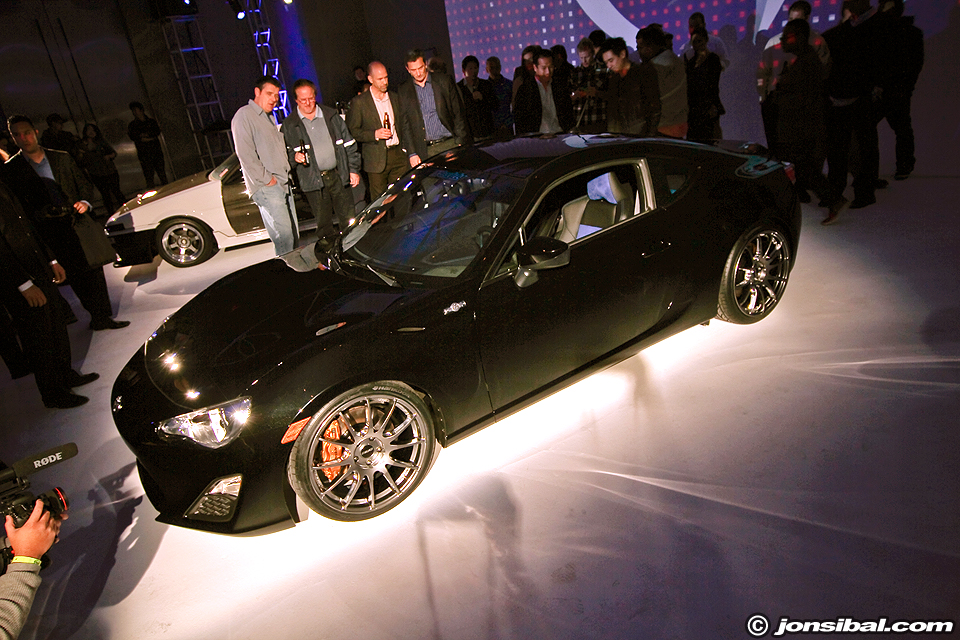 Major props to Kenji (who I think I spot right in the rear of the car snapping some pics) and the rest of the GReddy team for doing a great job with this car.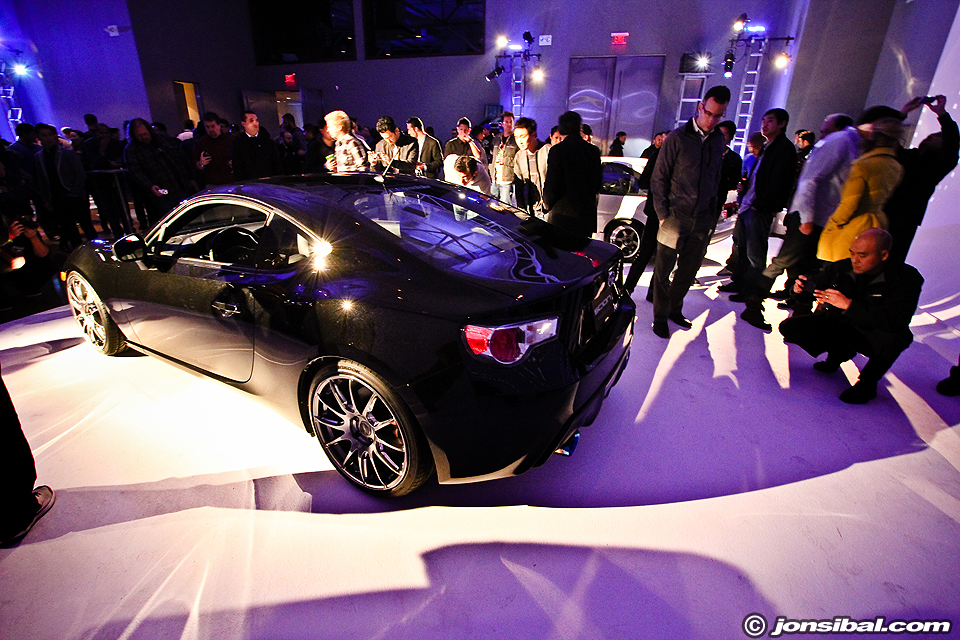 The GReddy FR-S looked so good that people were passing out at the sight of it! LOL, j/k. I think that's Linhbergh getting some shots for SPEEDHUNTERS.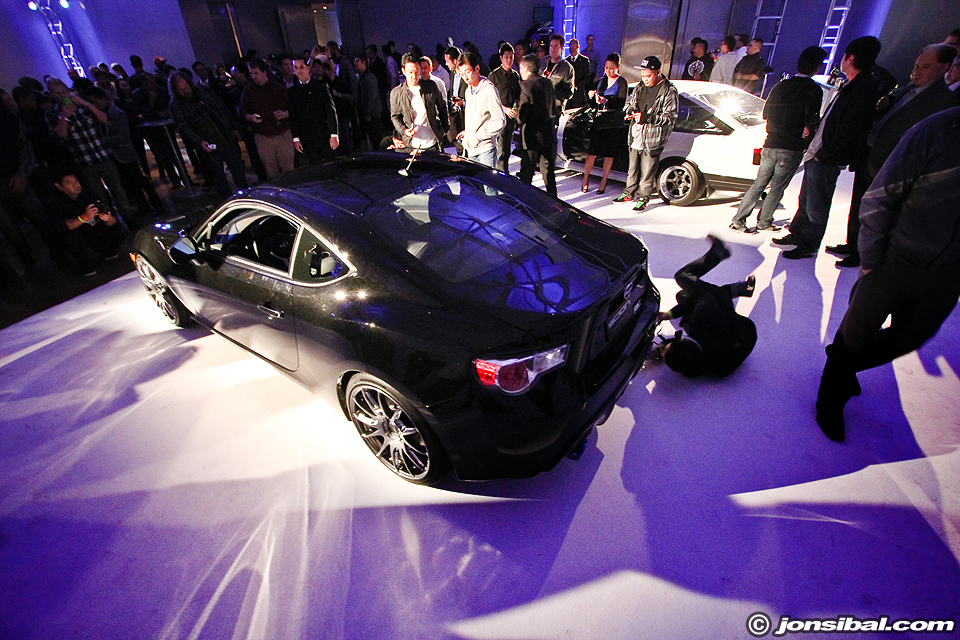 Front end shot of the FR-S looking like a vampire ready to sink his fangs.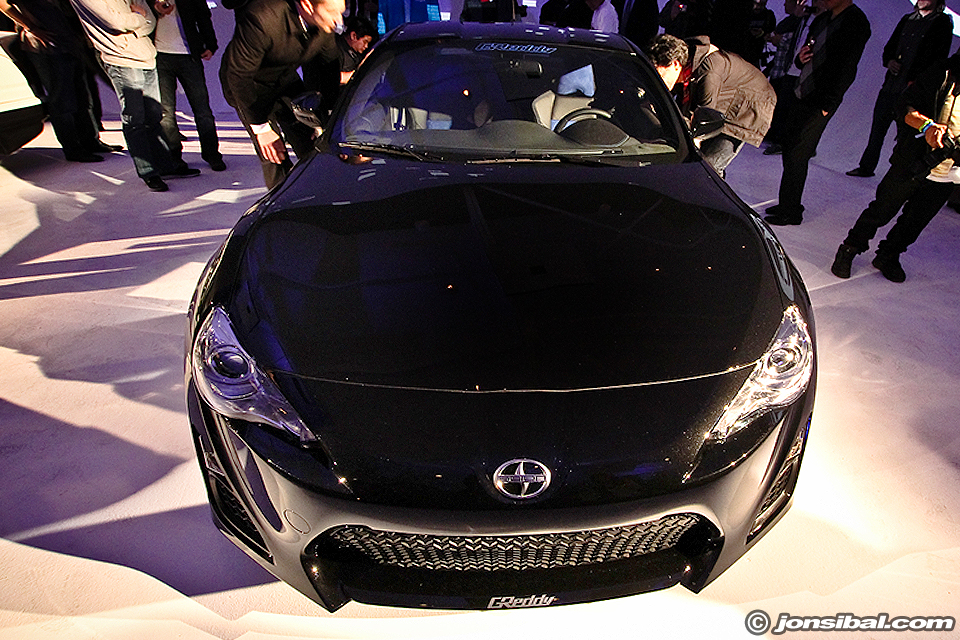 The GReddy FR-S were crowded till the very end and getting a clear shot was a challenge but I manage to snap some quickies.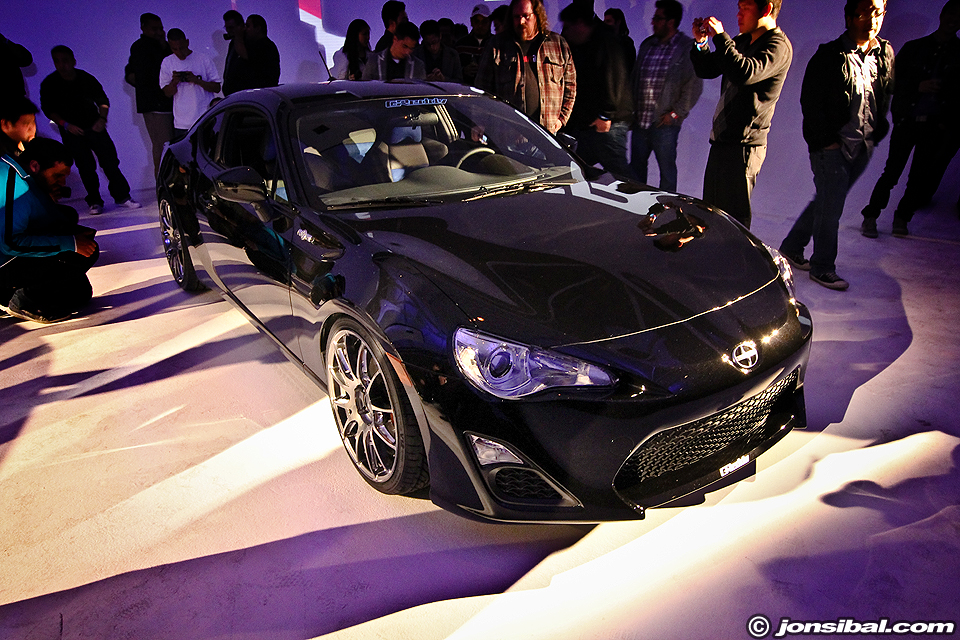 Had a chance to chat for few with my good friend Mike Vu (MVDesignz) (who built that winning Scion iQ for me) and picked his brain on this model and discussed how much aftermarket companies will eat this car up.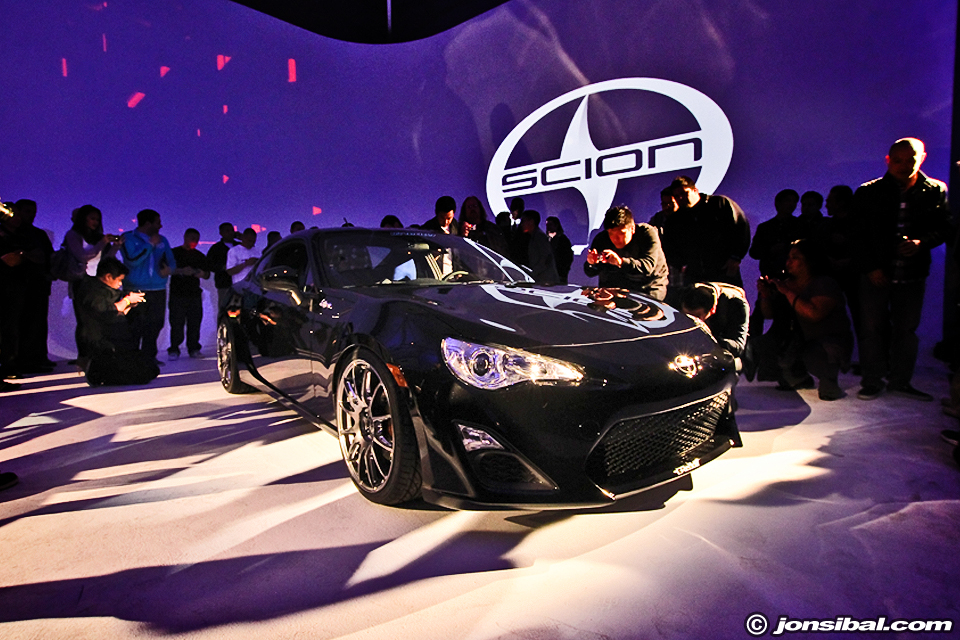 Also took that moment to exchanged some ideas with RJ for a future FR-S project as we studied the GReddy FR-S at every angle.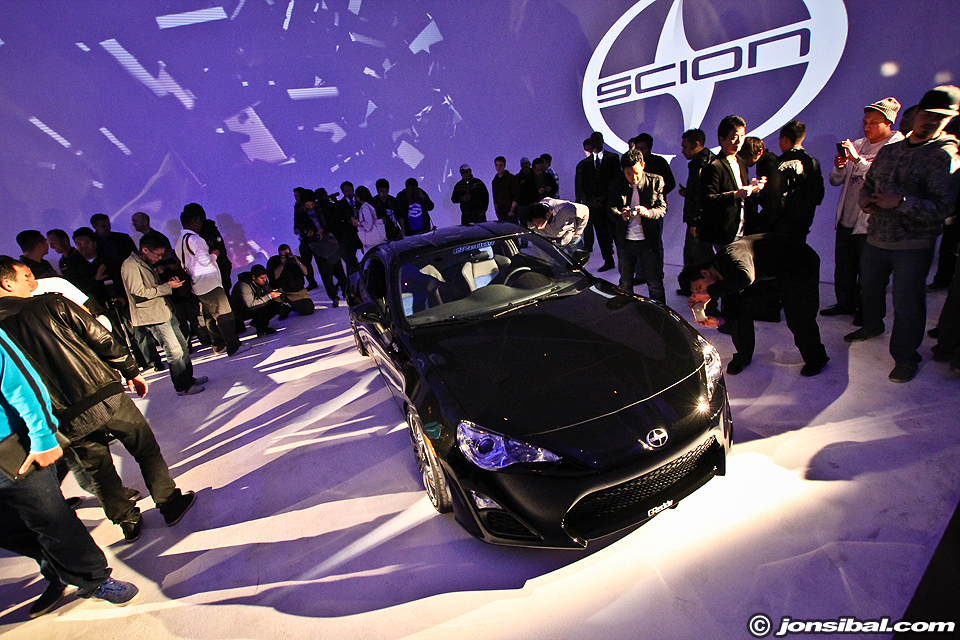 Then Albert and I went back to the other room hoping to get some clean shots of the red factory FR-S. Yep there she is.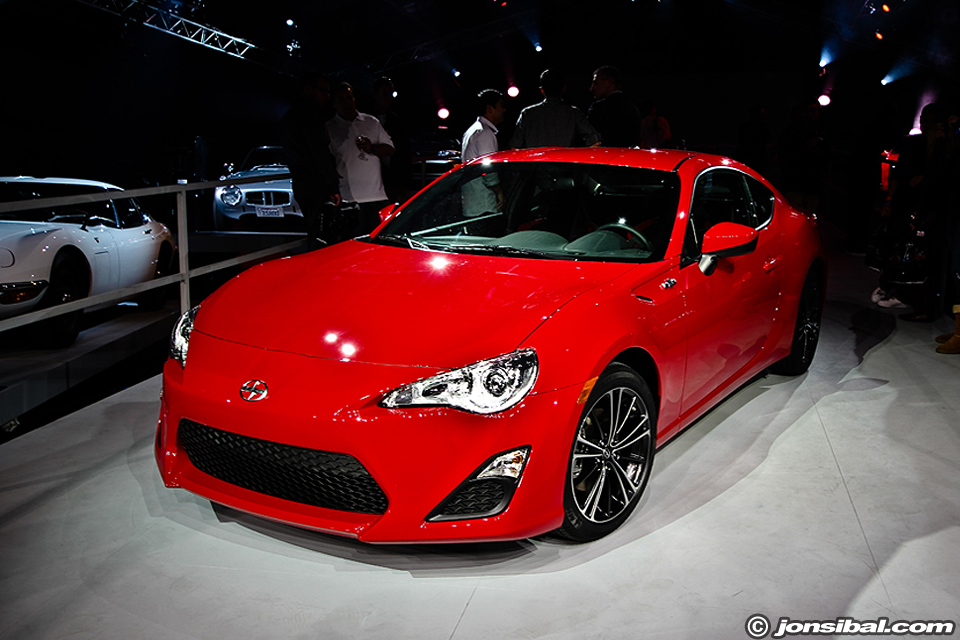 Seeing the car up close didn't change how I felt about the car. I still liked it. It's a great base car that car guys would love to tune and play with. My only wish was that we got the LED headlights- but that's an easy fix. I'm partial to black cars but this car looks best in bright, lighter colors to show off those curves and body contours best.
The crowd thinned out a bit so it wasn't so bad getting some shots of it.

Jack was working it. He was there the whole time tirelessly answering questions, doing interviews, posing for photos and thanking everyone for their support.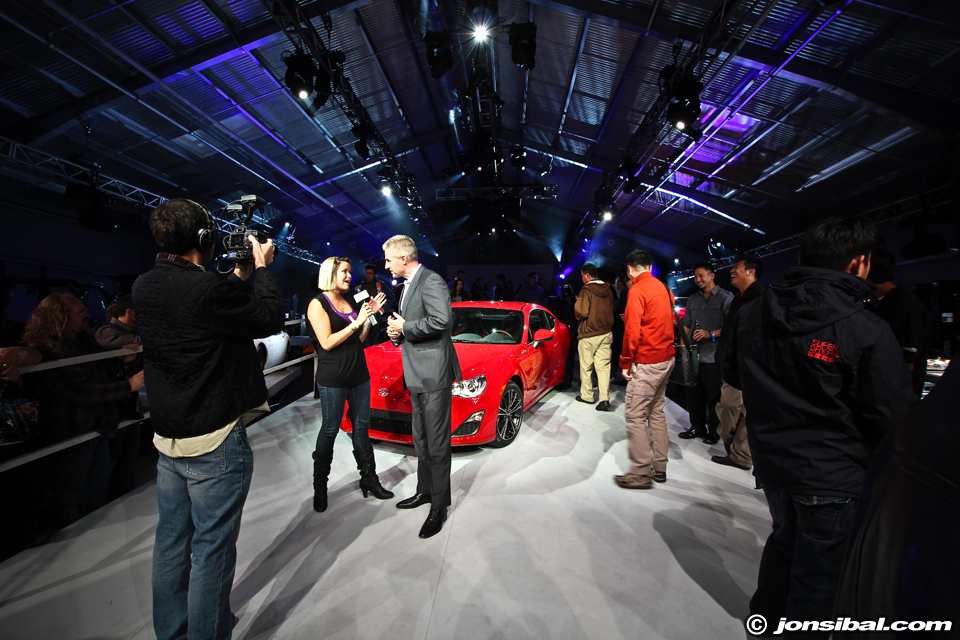 He did it all with a smile and contagious energy.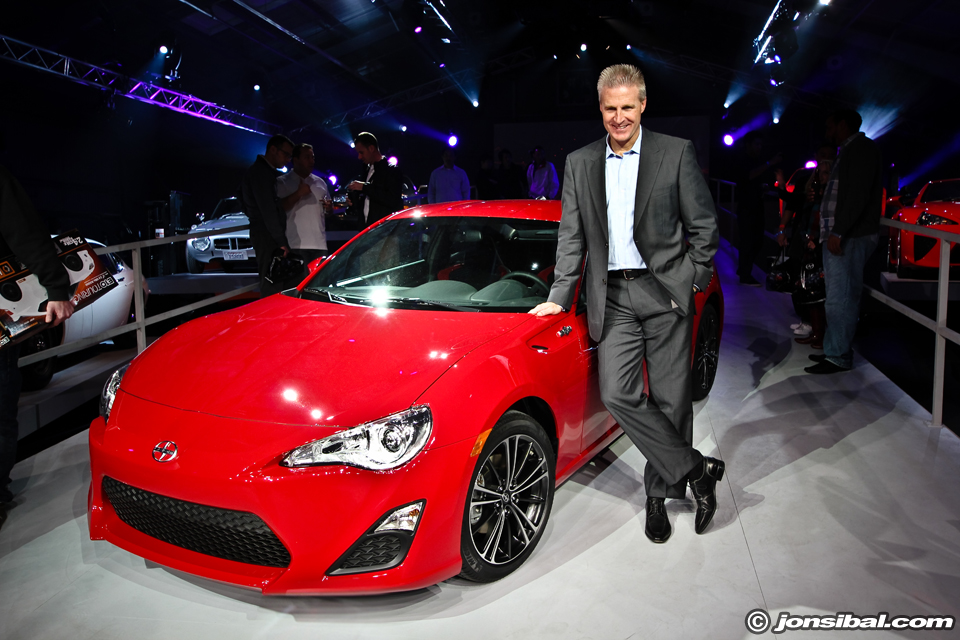 This type of event was like a mini reunion for me seeing some old friends like Benson Hsu (Sileighty Mania) and his wife Nadine (Drifting Pretty) shown here with RJ and Scion FormulaD driverKen Gushi on each side.

This was when RJ and I decided to have a friendly bet on the starting price of the Scion FR-S. Initially I thought it would be hella funny to have the loser take a photo with a dress on, but RJ wasn't willing although I'm sure he would've look real pretty LOL!
I also bumped into the great guys behind EVASIVE Motorsports, Tony and Mike who were checking out the FR-S for a possible future project car. You know they will do it right too!!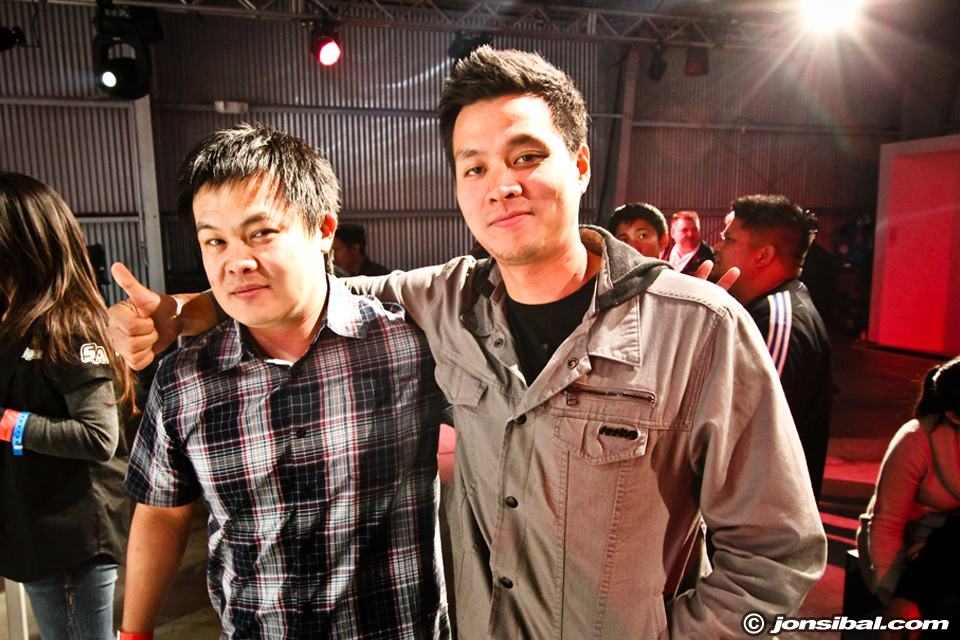 Got to meet Andrew from HPI Racing as well shown here with RJ. Andrew, when can we visit the place man! We wanna jump a certain new hire you guys have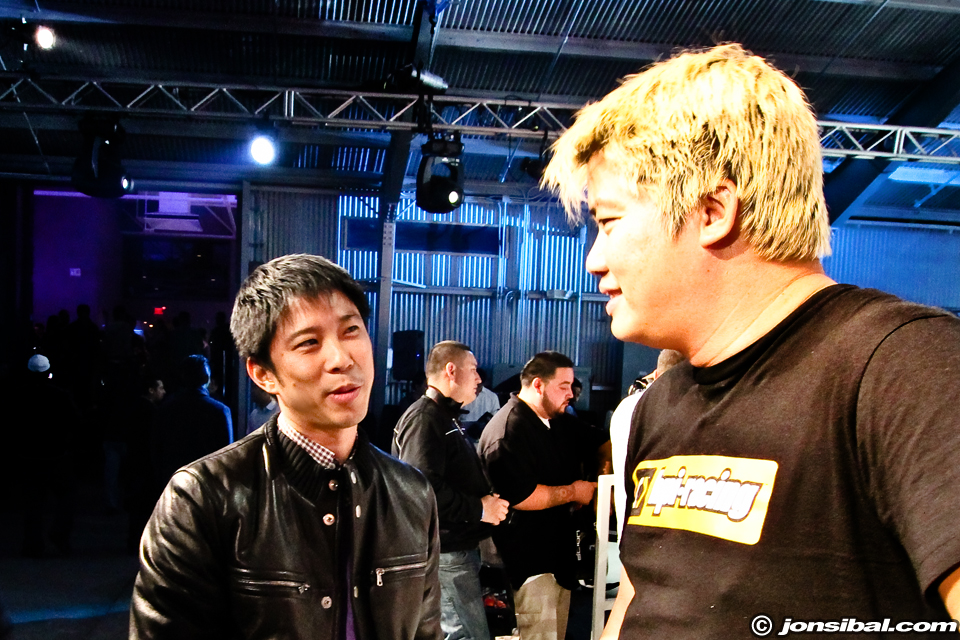 We were having a great time and all of a sudden the guys around me started clapping as I heard Albert's name blasted through the speakers. They had random prize drawing and Albert won! Congrats man! LOL
Albert with the legend himself, super OG Ken Miyoshi (Import Showoff).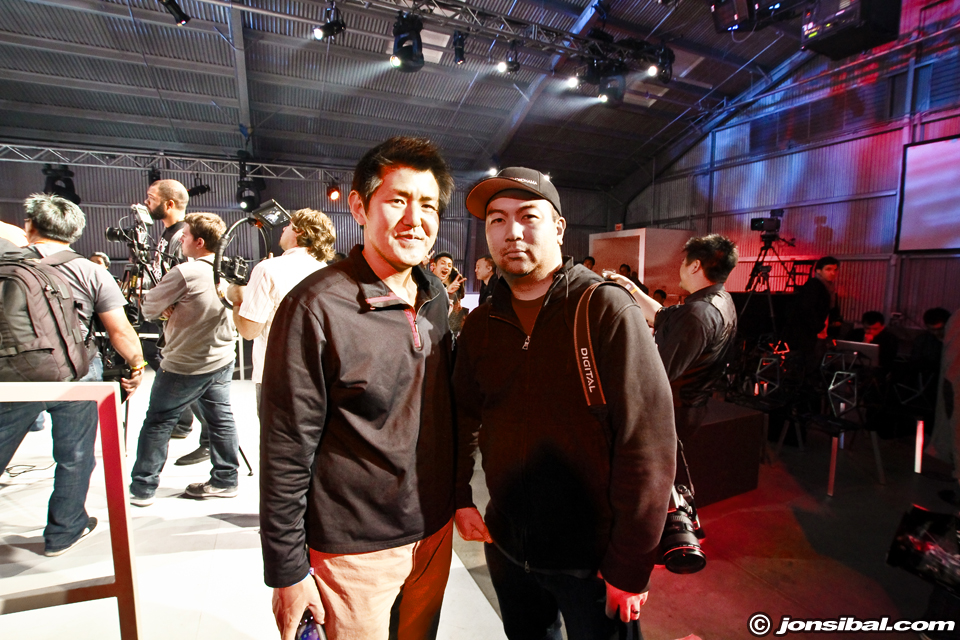 It was great to see Krist (stickyIcons), Gary, Scott Kanemura, Troy (5Axis), Lary (Speedhunters), Sam and Jonathan (SuperStreet), Bob (UrbanRacer) Joey (Clockwork Media), Nilo, Denny and Gene, and many more. It was such a fun event. I gotta give props to the whole Scion crew led by Steve, Fred and Craig. Thanks for letting us be part of it
RJ , Albert and I ended the night with the guys (and girls) from Evasive, GReddy, Carter Jung (Road&Track), Dai (Formula D 2011 Champion), Taro (GTChannel), Taku (Gran Turismo US) etc. deciding to hit up IKEMEN for some late night authentic Japanese Dip Ramens.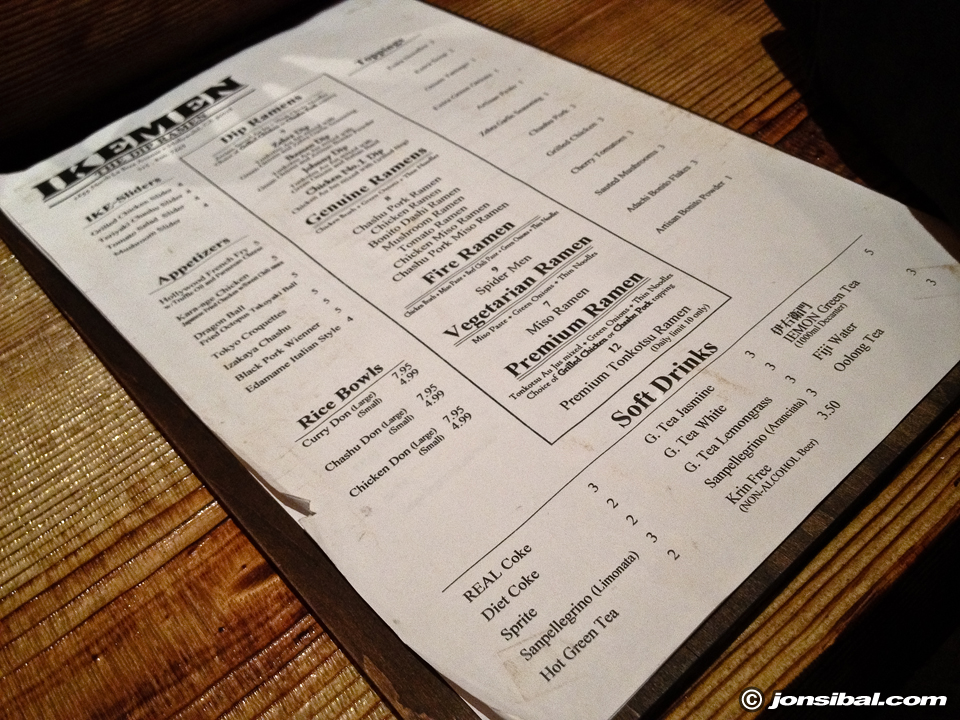 We shared a Chicken appetizer (which burned our mouth) and had a Chicken Ramen afterwards.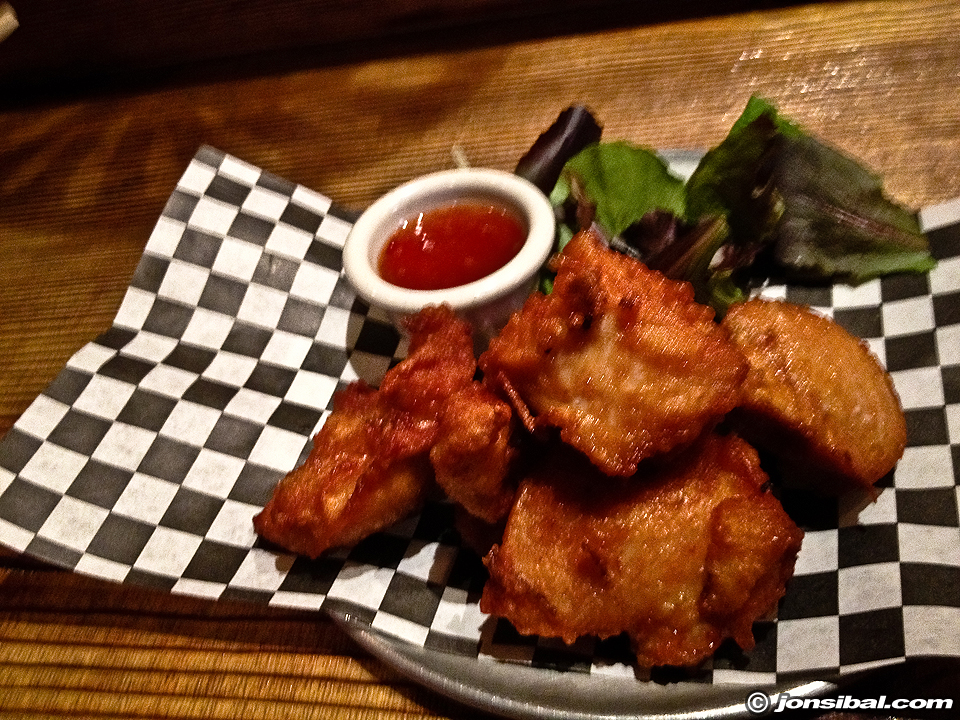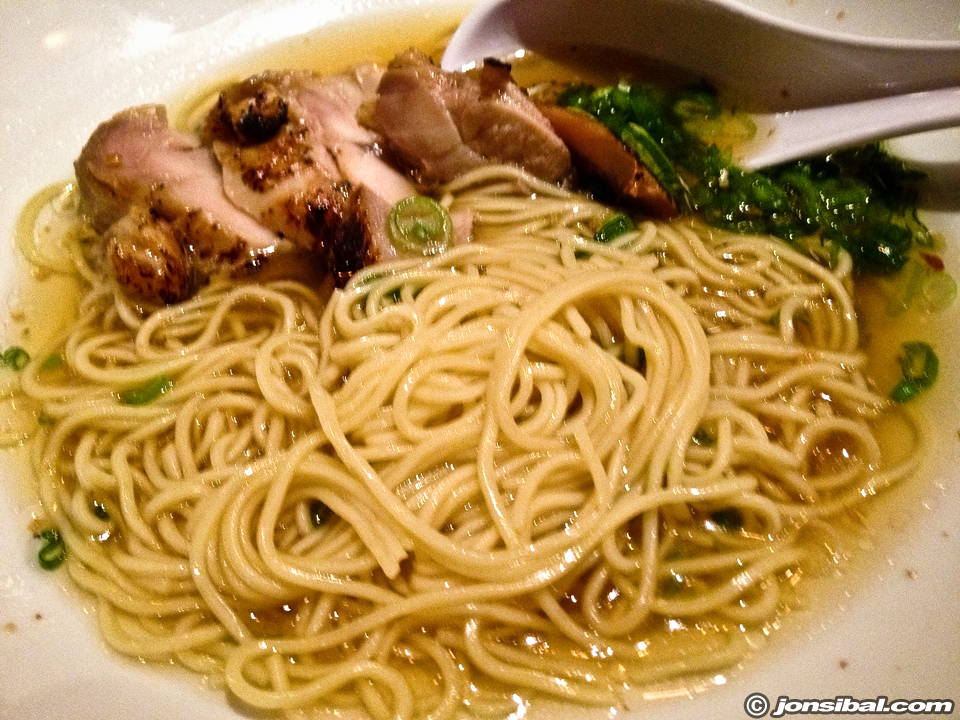 During this time, RJ and I finalized the terms and conditions of our bet. Albert suggested a great idea in which the loser will need to run a bright pink decal on his ride with the winner's name followed by "is my master"! LOL! RJ was down so now we wait.


Terms of the Bet: FR-S starting price above $24K, I win, anything below RJ wins. Loser runs the decal above (with the winner's name) prominently displayed on his car while displayed at a car show/event/meet.
It was a great way to end the evening looking around room with some heavy hitters in the industry filling up that small Japanese restaurant. To top it off, we found out that Kenji (GReddy) paid for our dinner too. Thank you very much Kenji!
And to wrap up this long post, I give you the official photos of the 2013 Scion FR-S.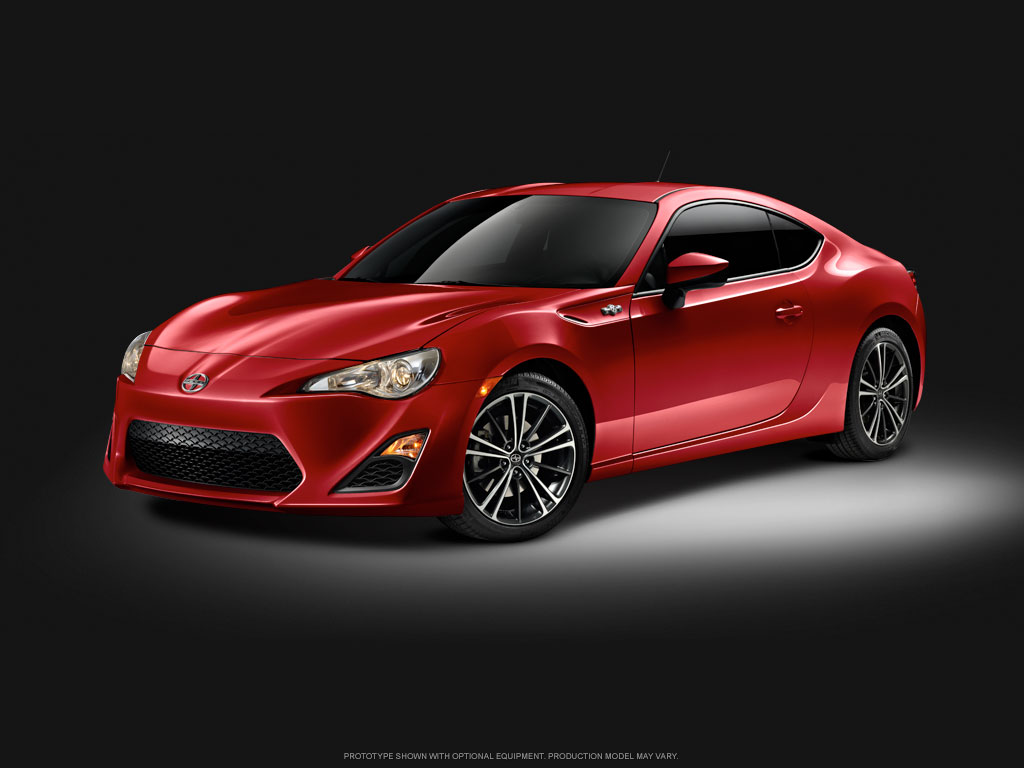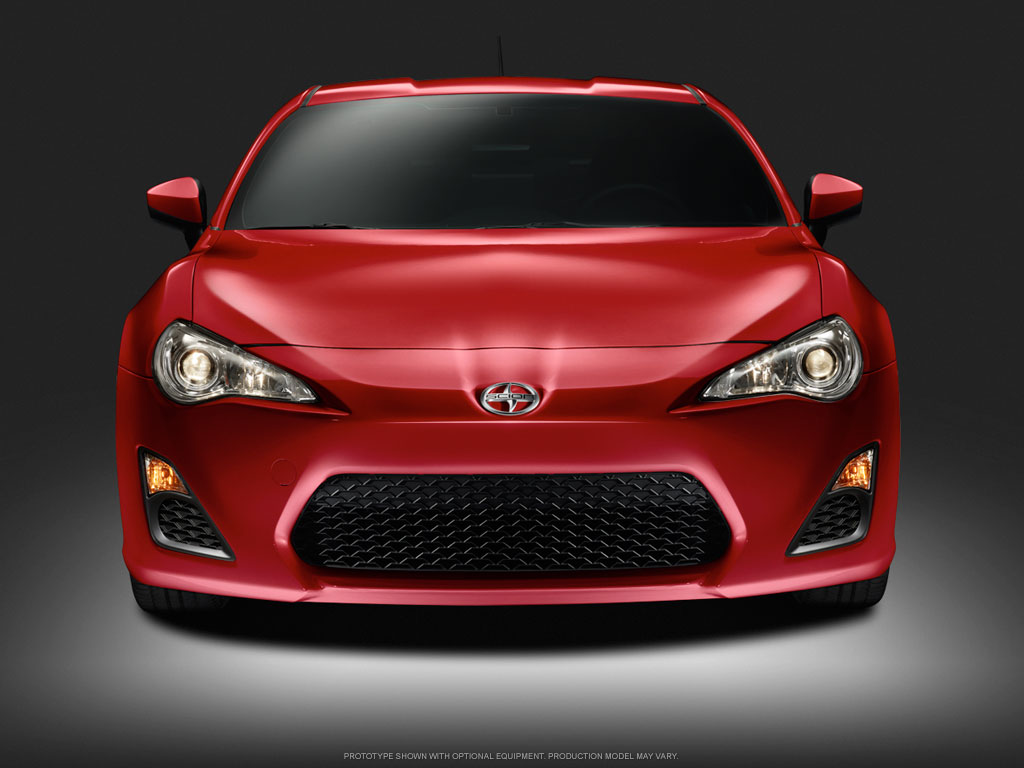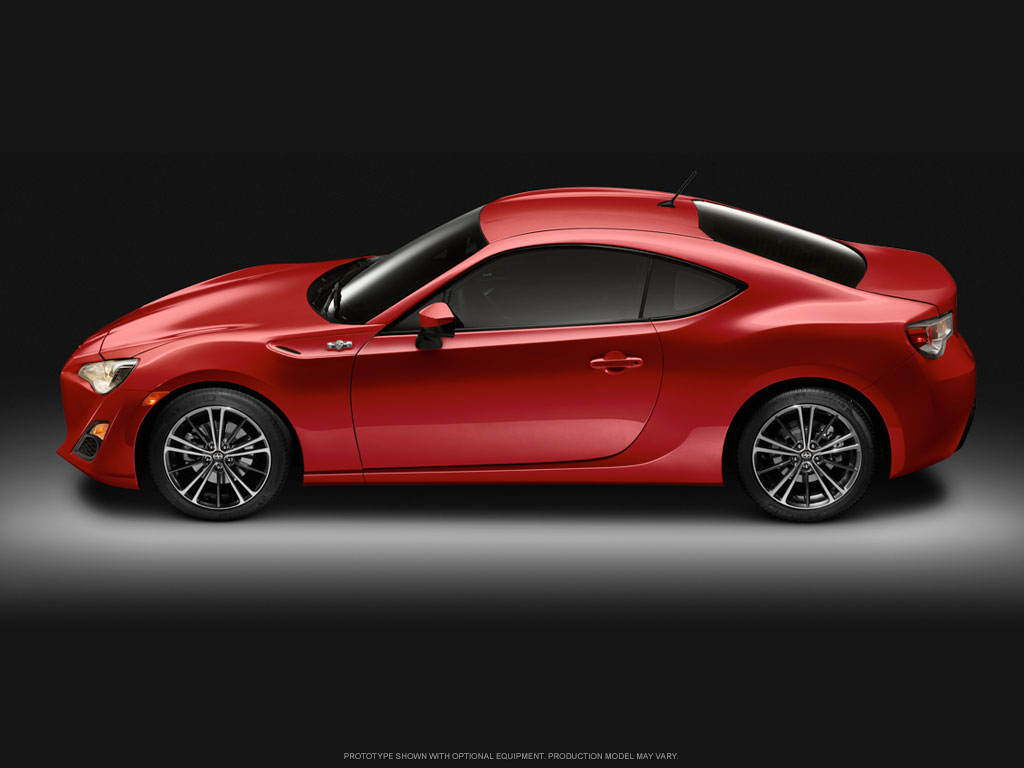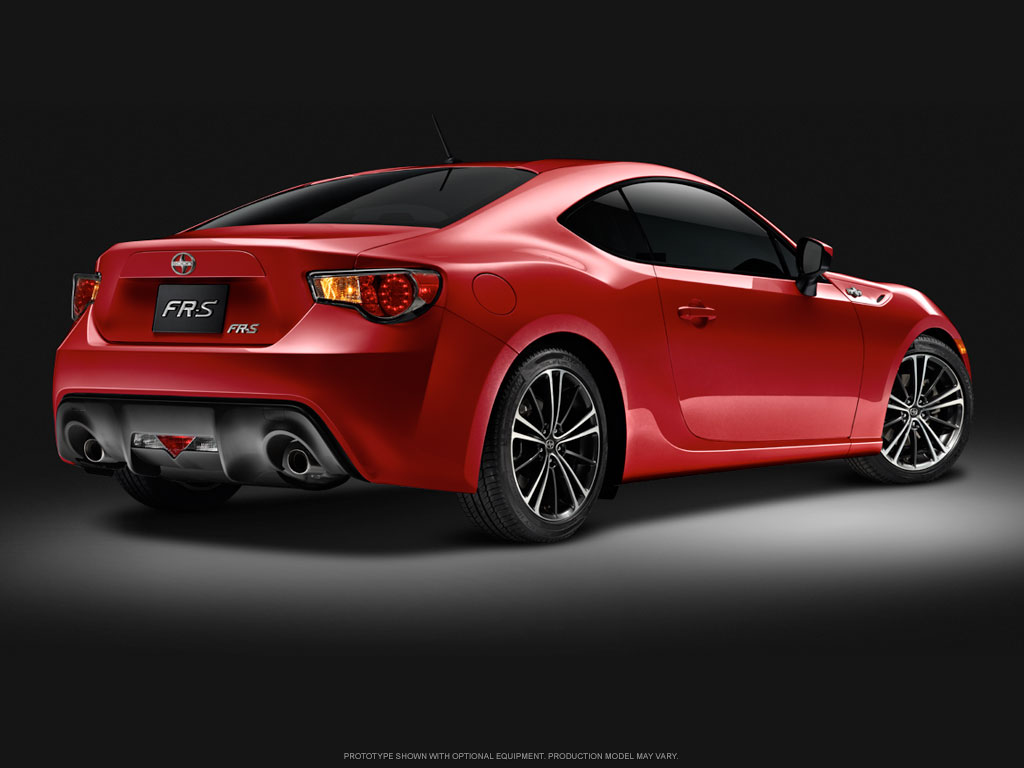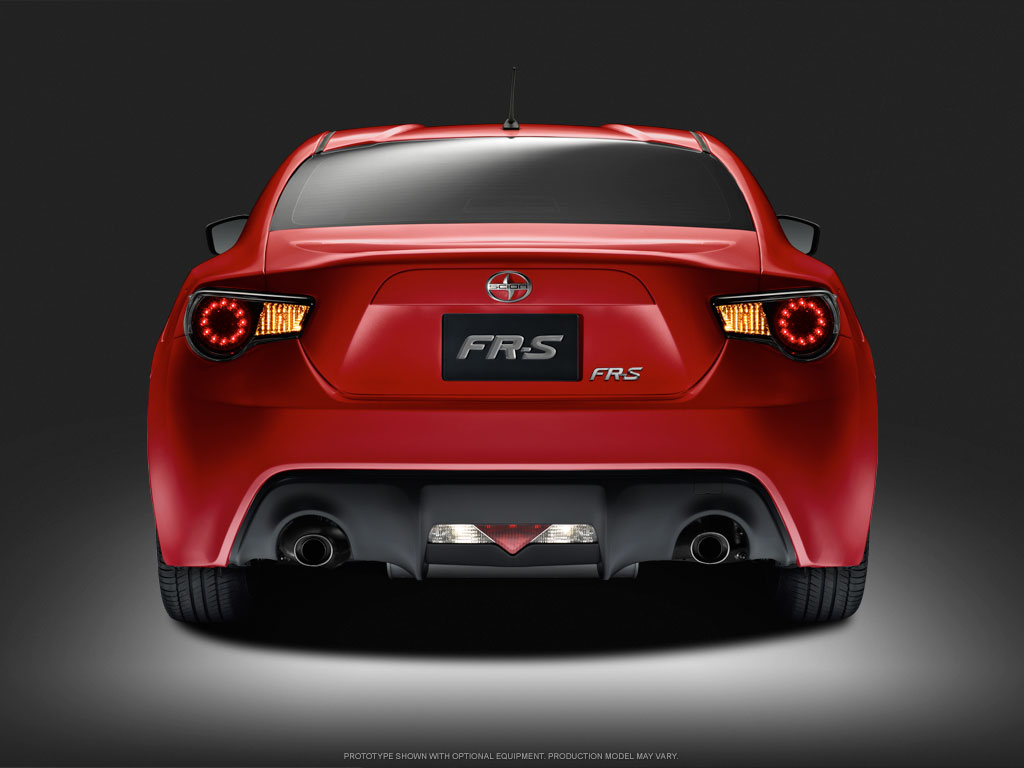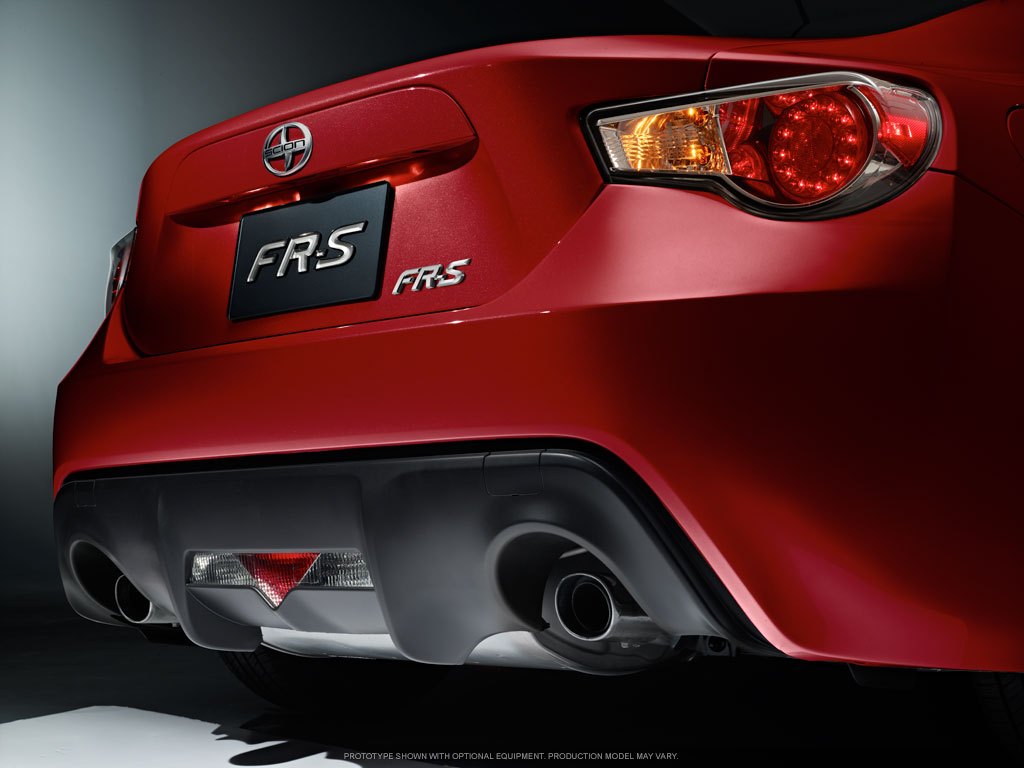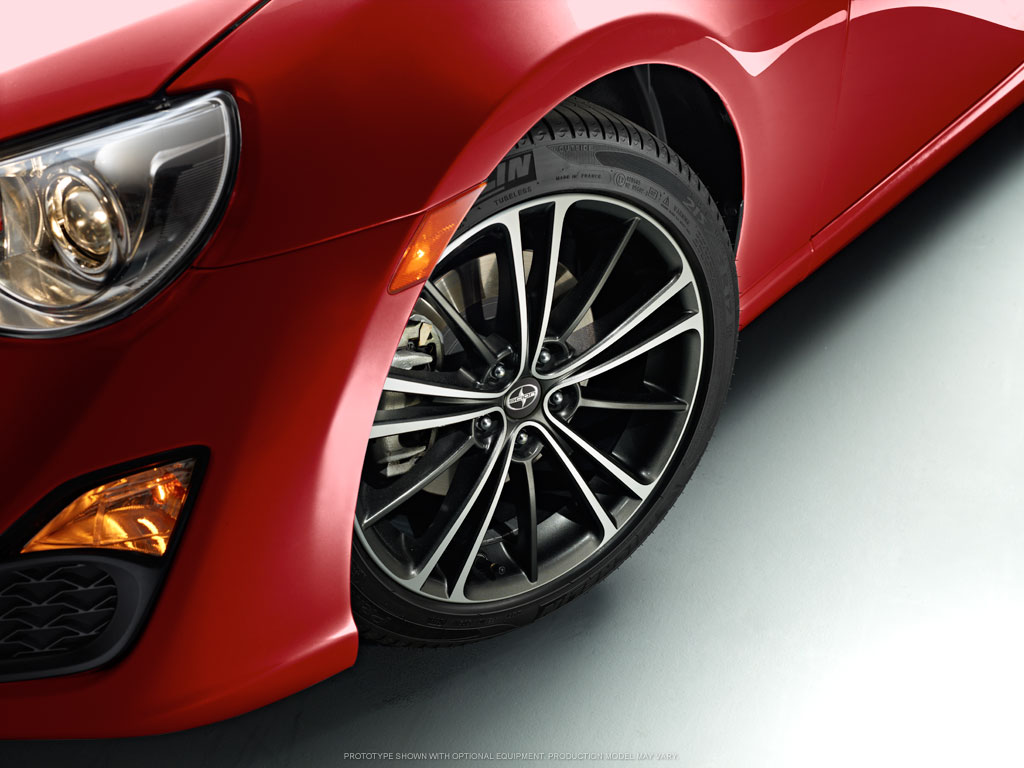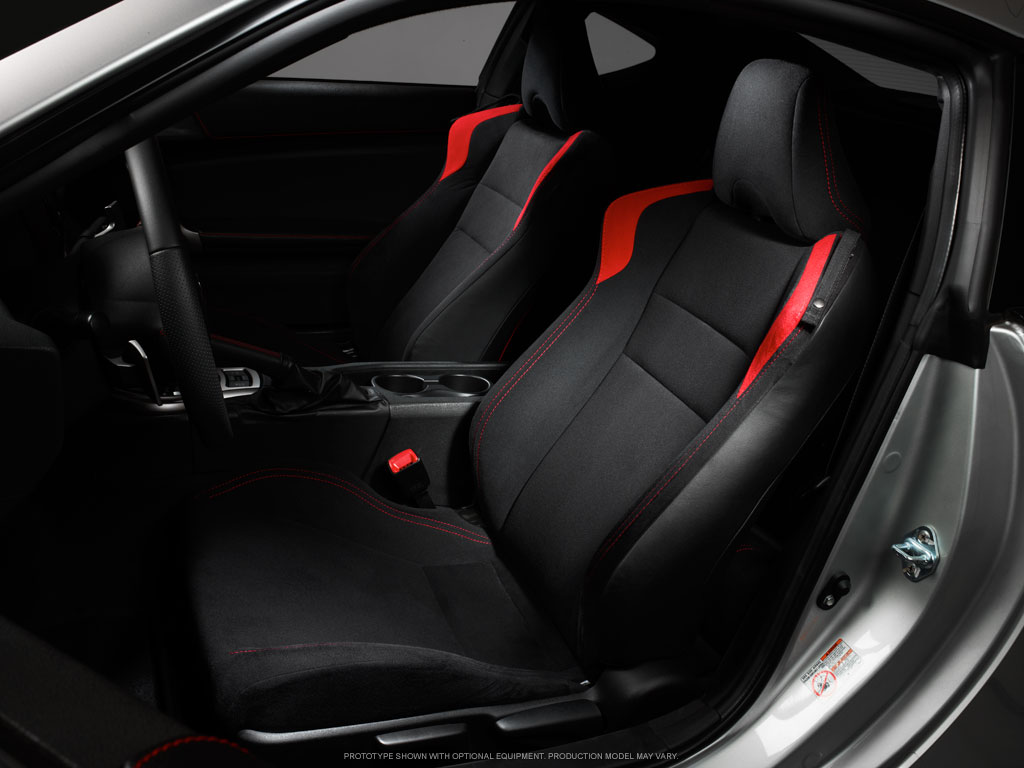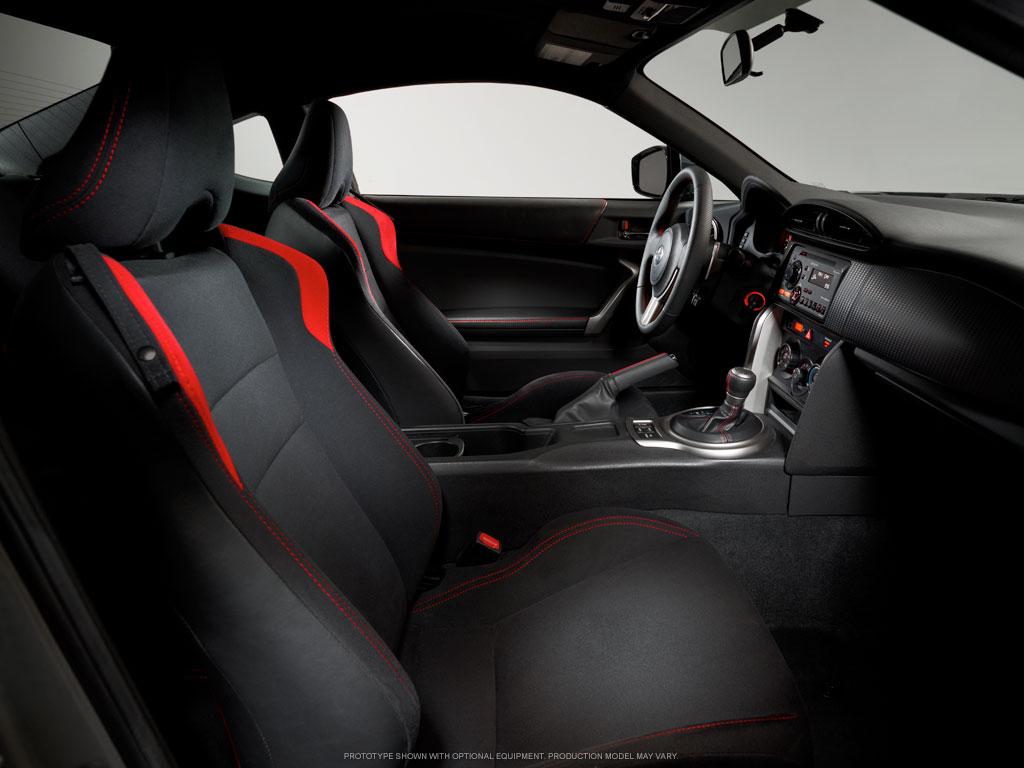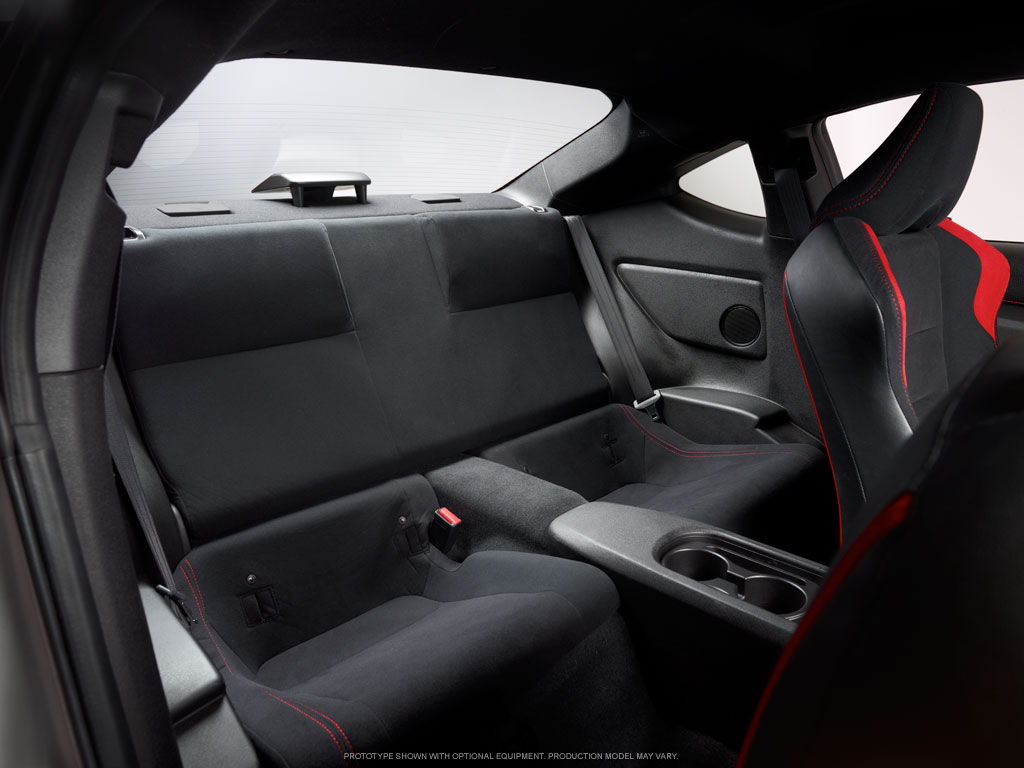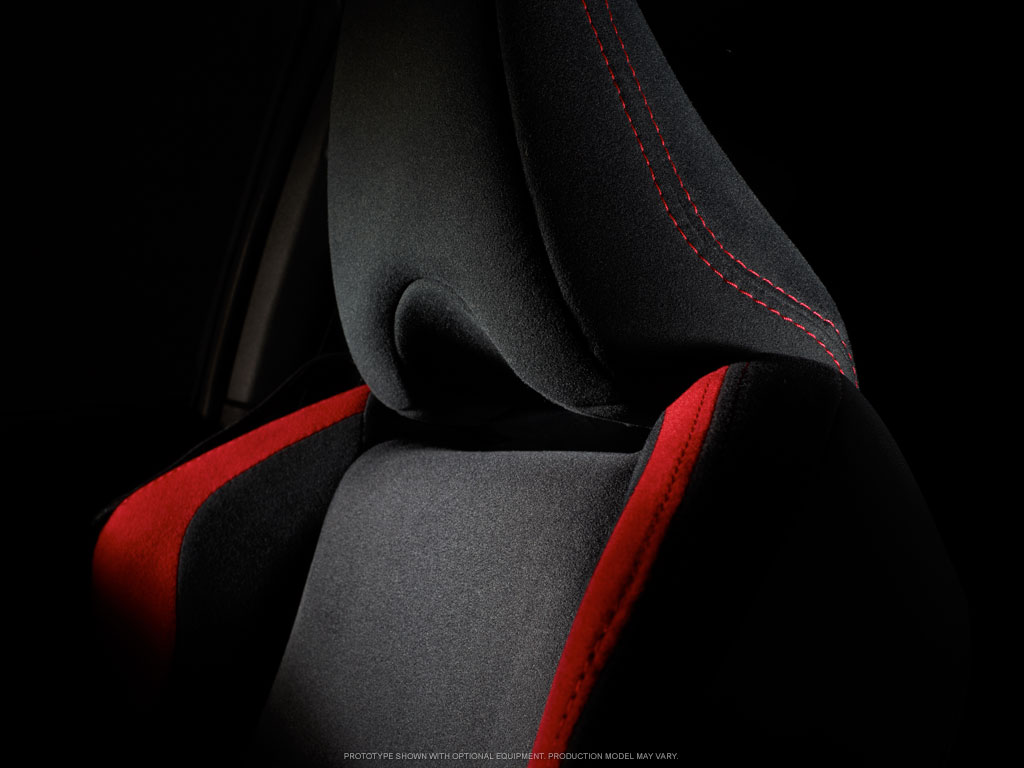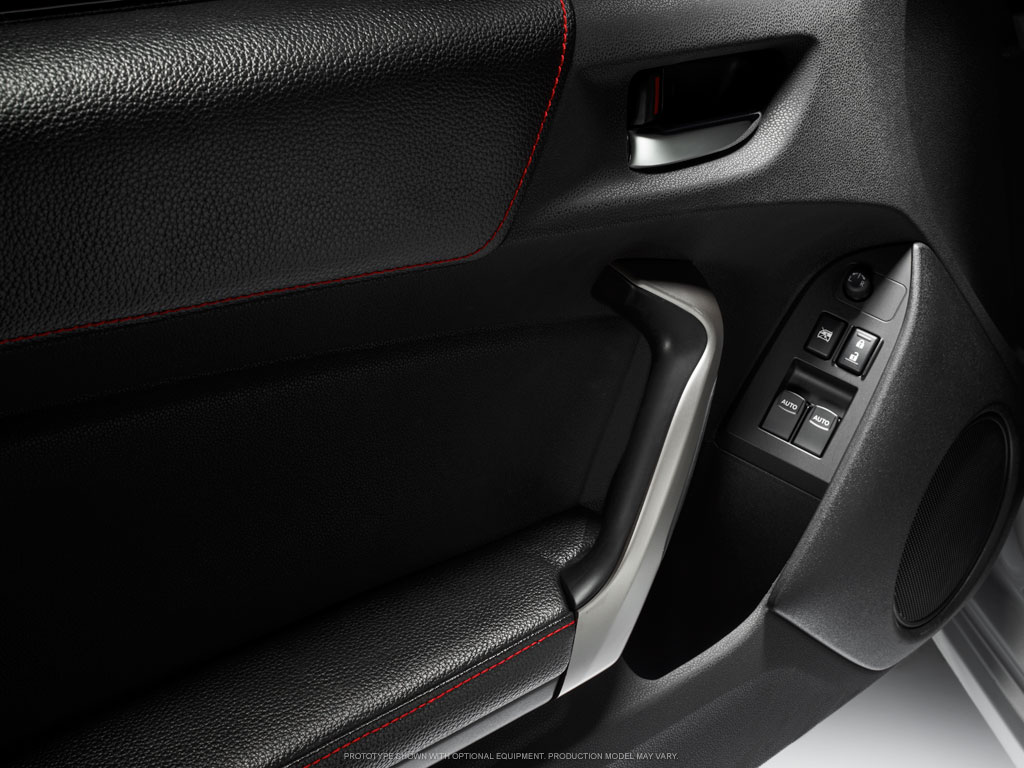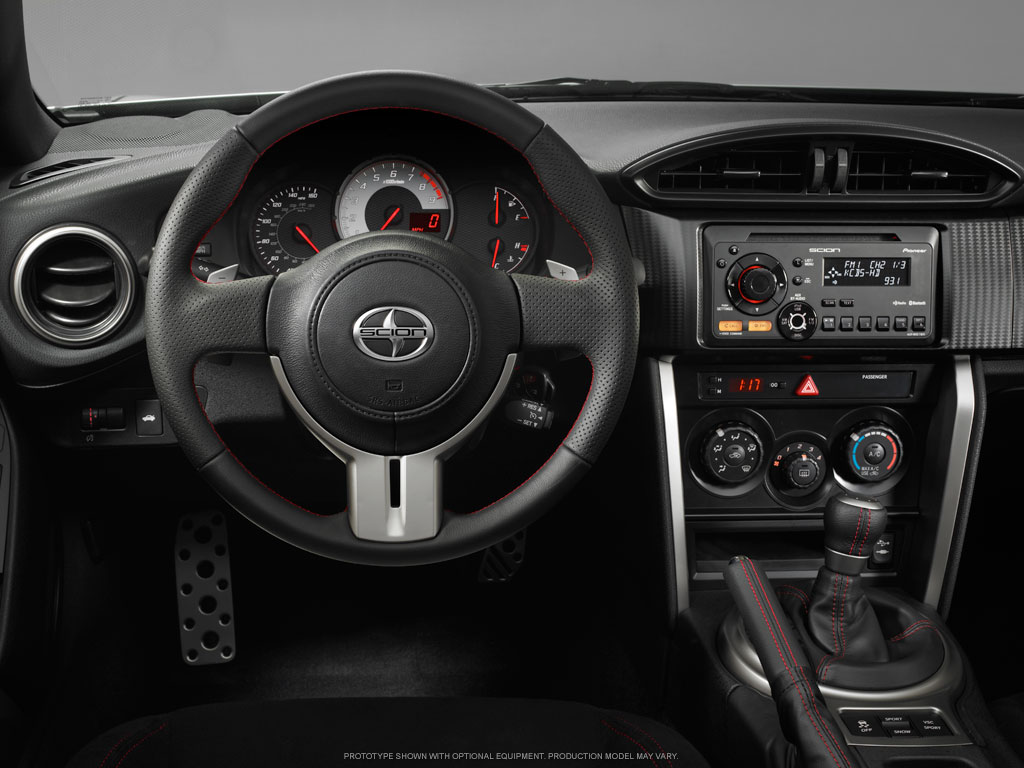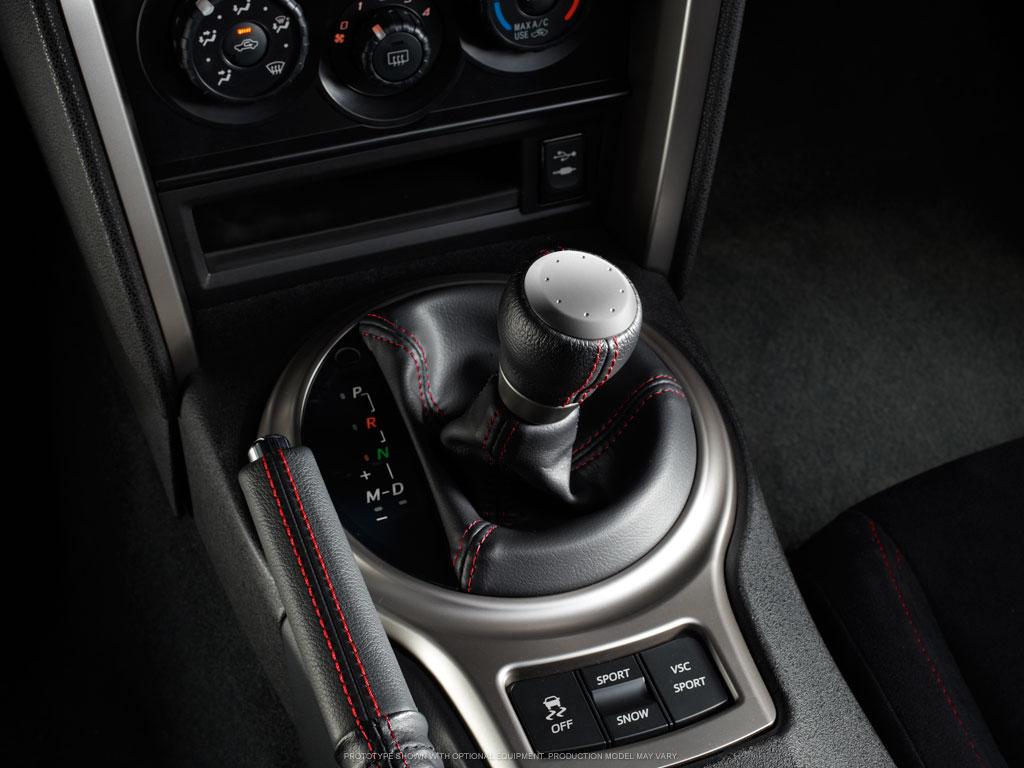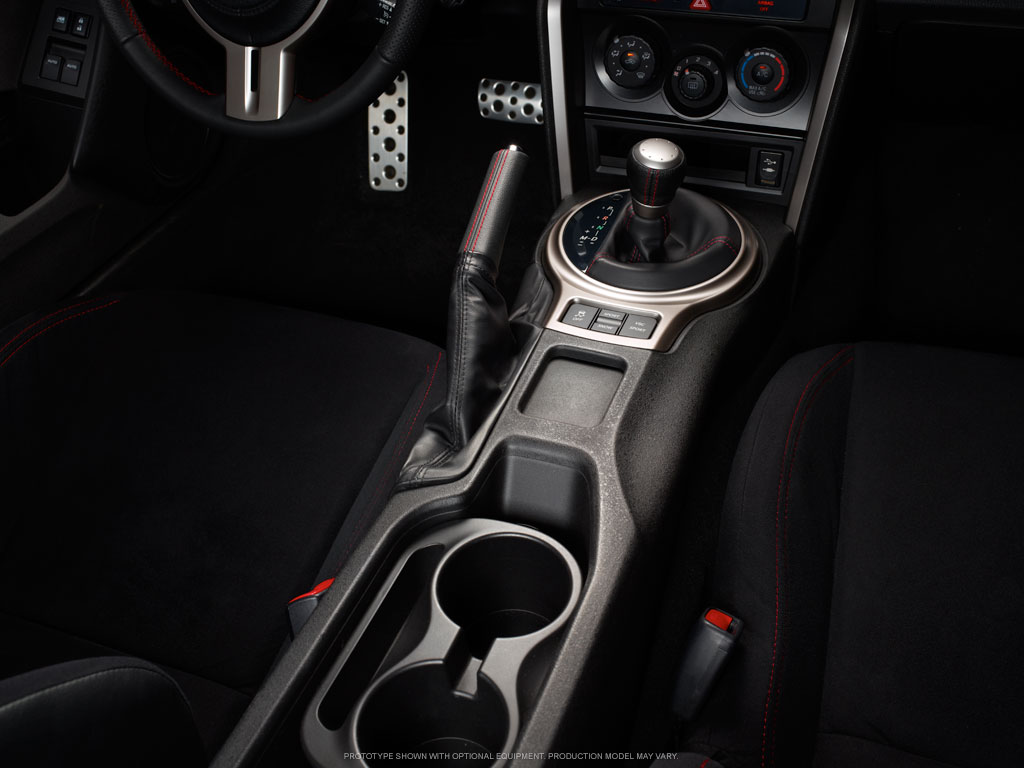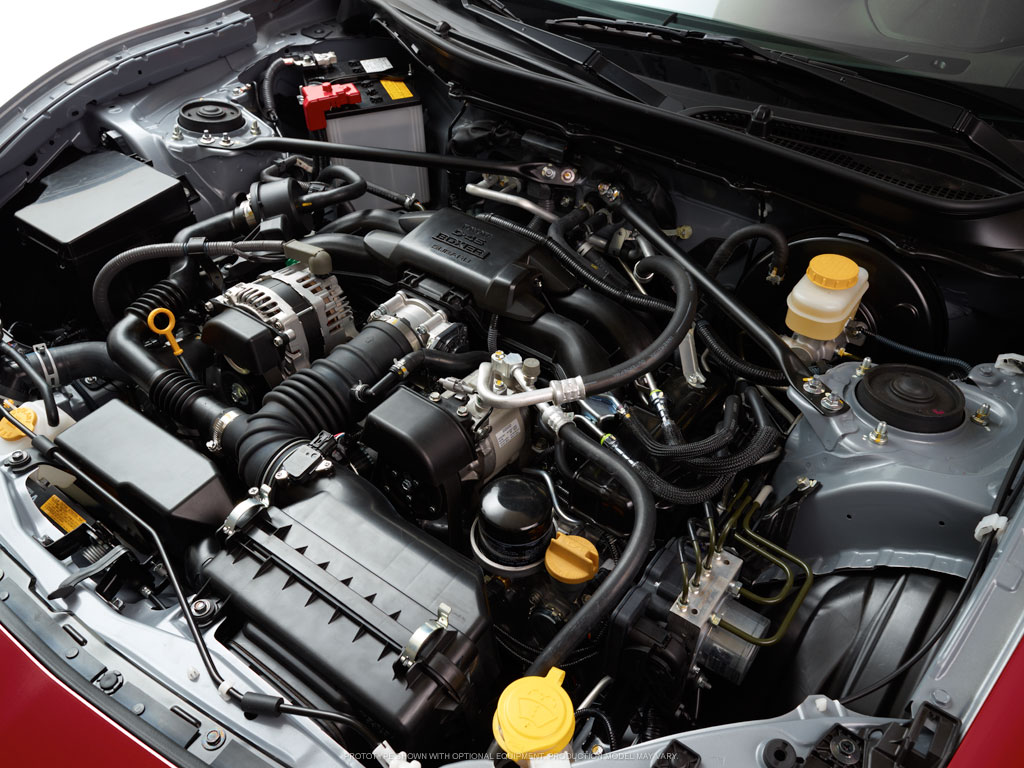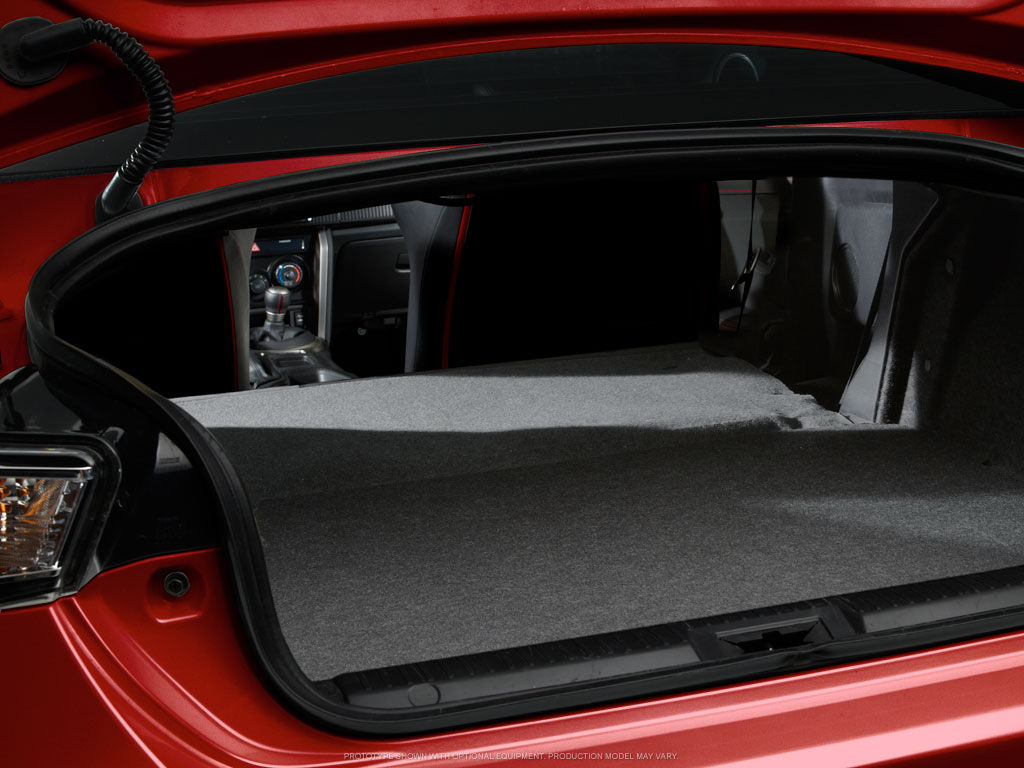 Scion unveiled its 2013 FR-S compact rear-wheel drive sports car to a crowd of eager car enthusiasts. The high-performance coupe is the fifth model to join the Scion family and will go on sale in the spring of 2012.

The Scion FR-S, which stands for Front-engine, Rear-wheel drive, Sport; is Scion's definition of an authentic rear-wheel-drive sports car with exceptionally balanced performance and handling, compelling style, flexible utility and surprising MPG.

"Serving as a laboratory for Toyota, Scion is always experimenting with new things," said Jack Hollis, Scion vice president. "The brand is iconic with the xB, adrenalized by the tC, and groundbreaking with the iQ. The FR-S will no doubt serve as the halo car, expanding Scion into a new dimension of driving performance."

The Scion FR-S is a true "scion," born into a lengthy history of Toyota performance cars and motorsports. The sports car is most inspired by the AE86 generation of the Corolla, better known as the Hachi-Roku, meaning "8-6″ in Japanese. The front-engine, rear-wheel-drive coupe was lightweight and well balanced, making it a solid choice for driving enthusiasts.

Inspired by the AE86, the Scion FR-S is designed around the core goal of achieving, "Pure Balance." The balance begins with the strategic use of the world's only flat boxer engine in a front-engine, rear-wheel drive configuration. The engine's compact size and flat shape allow it to be mounted mid-ship and extremely low, giving the car a dynamically favorable front-to-rear weight ratio of 53:47 and a low center of gravity comparable to some exotic supercars.
The Scion FR-S's 2.0-liter, naturally aspirated four-cylinder engine is the result of a joint development between Toyota and Subaru. The partnership begins by combining Subaru's newly developed horizontally opposed engine and Toyota's cutting edge D-4S injection system that incorporates both direct and port injection. The D-4S system, partnered with a high 12.5:1 compression ratio, results in an impressive 200 horsepower and 151 pound-feet of torque.

"We all know that it's not hard to make horsepower and torque, but it is hard to do all that and still achieve impressive fuel economy," Hollis said. "The FR-S accomplishes all three."

The flat-four mates with either a six-speed manual or a six-speed automatic transmission. The manual offers quick, precise shifts with a short-throw; while the automatic transmission features aggressive up shifts and sporty rev-matched down shifts that are initiated by steering-wheel-mounted paddle shifters. Power is transferred to the pavement via a limited-slip differential.

The idea of "Pure Balance" is further realized by the Scion FR-S's lightweight design and compact size. The combination allows the car to be quick and nimble into and out of corners, with dynamic maneuverability and confident handling. The coupe's weight is kept to a minimum by utilizing an aluminum hood, a solid roof, and by featuring a trunk design instead of a hatchback.

The Scion FR-S's low weight is matched with a dynamically tuned suspension setup consisting of MacPherson struts up front and a double wishbone system in the rear. Lightweight 17-inch alloy wheels and ventilated disc brakes are on all four corners.

The fierce exterior of the Scion FR-S is a solid reflection of its inner power. The profile, inspired by the Toyota 2000GT, reveals a hood and roof-line that is remarkably sleek and low, giving it an aerodynamic shape that channels air cleanly over to the top. The low stance continues to exaggerate the coupe's menacing face, which is made up of sharp lines, a wide mouth and angular headlights. The aggressive front fenders protrude upward and boast the iconic '86′ piston emblem, which highlights the car's AE86 heritage as well as its unique new boxer engine. The rear fascia sits low and wide, with aerodynamic lower treatments that surround the sporty dual exhaust system. LEDs illuminate the edgy taillights, while center-mounted backup lights finish the muscular design.

The Scion FR-S's interior features a 2+2 seating configuration that is designed with both form and function in mind. The front seats are mounted extremely low and are comfortable yet assertive, while the rear seat folds down flat, creating flexible space. The large center-mounted tachometer is the focus of the three-gauge cluster, keeping the driver informed of the engine's vitals. Speed is monitored by both digital and analog gauges.

Bonus pics of the GReddy FR-S day after the event back at GReddy's office.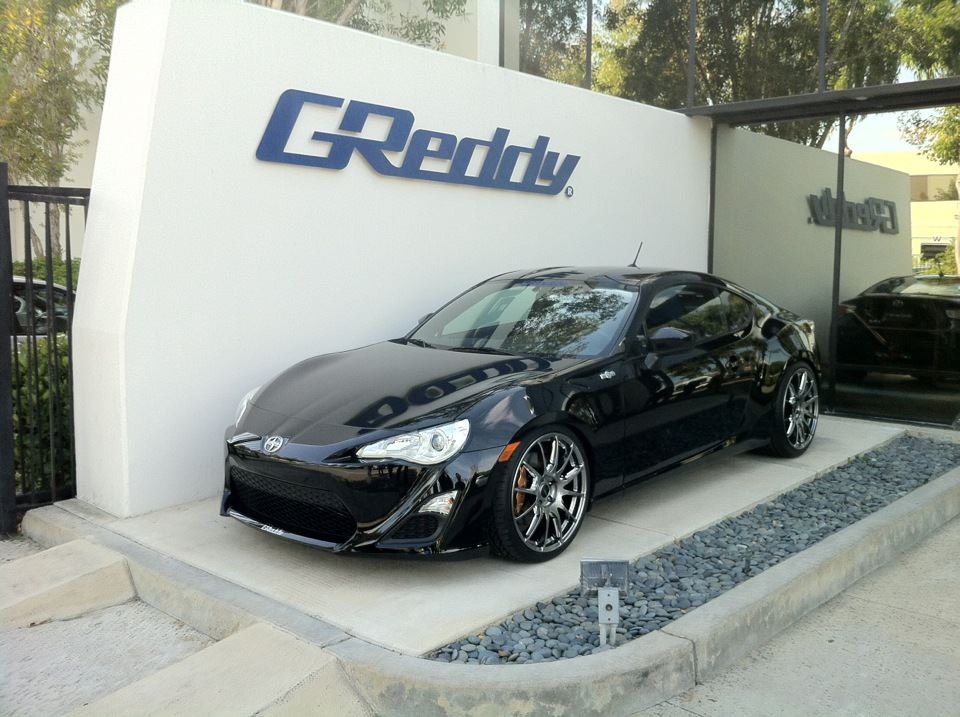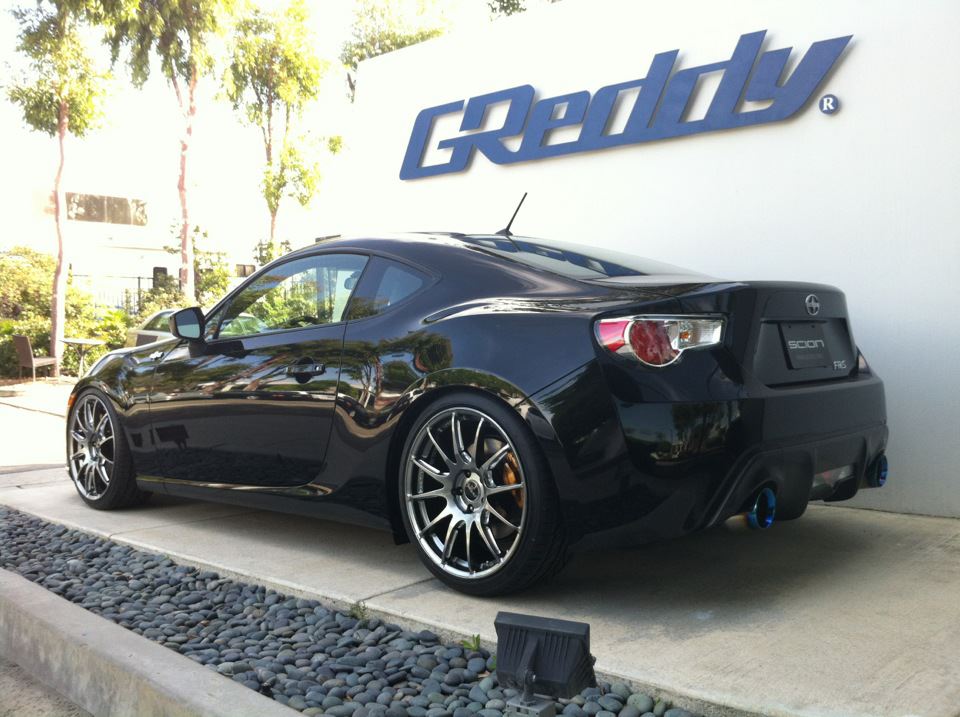 Well done!