Scion FR-S "NuR" Concept
17 October 2012
No Comment
It's been a very busy few months getting a lot of cars ready for SEMA. One of the cars that I'm excited to be part of is this Scion FR-S "NuR Concept
I had an opportunity to design this car with my good friend RJ De Vera from Meguiar's. A complete tuned sample featuring exterior and interior upgrades with power to boot courtesy of a Vortech Supercharger.
Below is the rendering of the Scion FR-S "NuR Concept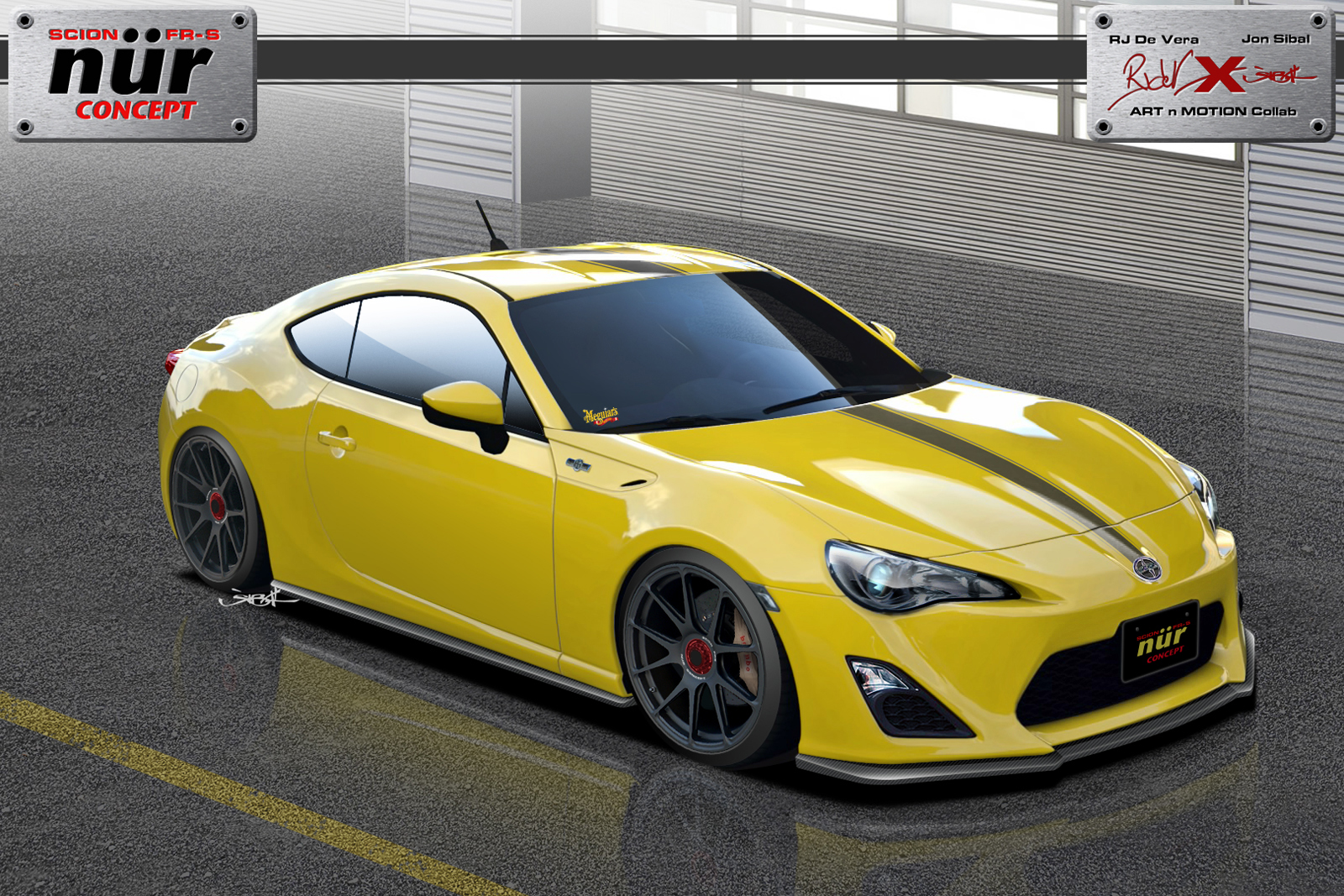 Here is the official Press Release with the complete info and specs.
CONCEPT BRIEF

Base Project Car: Scion FR-S by Meguiar's
Codename: NuR Concept
Project Designers: RJ de Vera – Meguiar's Inc / Jon Sibal – Jonsibal Design
Project Builders: Shoreline Motoring

Project Purpose

The goal for the Meguiar's Scion FR-S NuR Concept was to develop a vehicle that extends and personifies the performance styling and characteristics of the already technically thrilling Scion FR-S while messaging the look and feel of the vehicle's curvaceous lines to give it a more exotic car stance and emotion. Meguiar's strove to create a concept that will not only look at home next to uber class sport cars but also have the performance characteristics to run with the elite.

The FR-S NuR Concept features a sportier aesthetic with the combined use of ChargeSpeed Carbon aero pieces (front lip, side skirts, and rear caps) along with FiveAD rear trunk spoiler. Forged monoblock single bolt wheels come in the form of 19 inch Forgeline GA1Rs giving the vehicle a high end high performance feel akin to an LF-A NuR, GT3 RS, or GranTurismo MC Stradale. Brembo clubsport racing calipers and large discs fill in the space behind and help this concept merge form and function into one singular thought. Raising the elegance of the vehicle the whole interior was redone in a black leather and grey alcantara combo complete with yellow contrast stitching and custom yellow seatbelts while dash panels are wrapped in Meguiar's Carbon Black Wraptivo . The car is finished off with its trim and emblems being painted gloss black along with custom black headlight housings and red candied rear taillights.

The NuR concept is meant to not only be a looker but also a performer. To help this project string the soul of driving fun, a Vortech Supercharger system was developed to boost power and go hand-in- hand with a bespoke hi-flow mid pipe and complete exhaust system by Motiv Concepts. Pirelli's P-Zero Corsa System tires keep the car glued to the pavement further adding to its Scuderia-esq mystic while carving duties and a properly aggressive stance are provided by KW's Variant 3 coilover suspension.

Meguiar's is all about car care and detailing, and so Jon and I strove to create a concept that is all about the little details. Our goal was to produce a baby exotic using the capable FR-S as the foundation. Every part and upgrade was carefully chosen to ensure that the overall feel of the car was clean and elegant yet striking and bold in personality. We partnered with like minded companies who shared our brand values of pride, passion, and performance and the drive to produce and offer only the best products. Thanks to the build talent at Shoreline Motoring the result is a vehicle concept that we are quite excited to share with other enthusiasts and fans of the car hobby. It really is all in the details. This is the FR-S that I would want to see in my garage and the one I'd love to drive each and every day.

Project Specs for the Meguiar's FR-S NuR Concept

Aesthetics

Exterior: ChargeSpeed Carbon Aero (Front Lip, Side Skirts, Rear Caps)
FiveAD Rear Trunk Wing
Modified Headlight and Taillight Housings

Color: Meguiar's Fly Yellow Color
Racing Stripe in Matte Gunmetal

Interior: Fully Redone Interior
Dash, seats, headliner, steering wheel, shifter, and floormats redone in
Black Leather & Grey Alcantara combo w yellow contrast stitching
Custom Yellow Seatbelts
Dash Panels Wrapped in Meguiar's Carbon Black Wraptivo

Detailing : Meguiar's Car Care Products

Performance

Power adder: Supercharger System by Vortech

Exhaust: Motiv Concepts hi-flow cat pipe
Motiv Concepts bespoke exhaust system with power coated tips
Wheels: Forgeline Single Bolt GA1R Forged Monoblock Wheels
Front: 19×9 (ET45) Rear: 19×10 (ET53)
Forgeline Single Bolt Conversion

Tires: Pirelli P-Zero Corsa System
Front: 235/35 – 19 Rear: 265/30 – 19

Brakes Brembo Big Brake Kit Featuring:
Front: 4 Piston Clubsport Race Calipers
Rear: 4 Piston Sport Calipers
Front/Rear: 345mmx28mm 2-Piece Floating Rotors

Suspension: KW Suspension Variant 3 Coilovers

PROJECT PARTNERS

Marketing Partners
Scion, Forza Motorsport

Technology Partners:
Shoreline Motoring, Pirelli Tires, KW Suspension, Brembo Brakes, Forgeline Motorsports, Vortech Superchargers, Motiv Concepts, Versus Motorsport and ChargeSpeed USA
The Scion FR-S "NuR Concept will be displayed at the SCION's booth at SEMA show in Las Vegas from Oct. 30th to November 2nd.